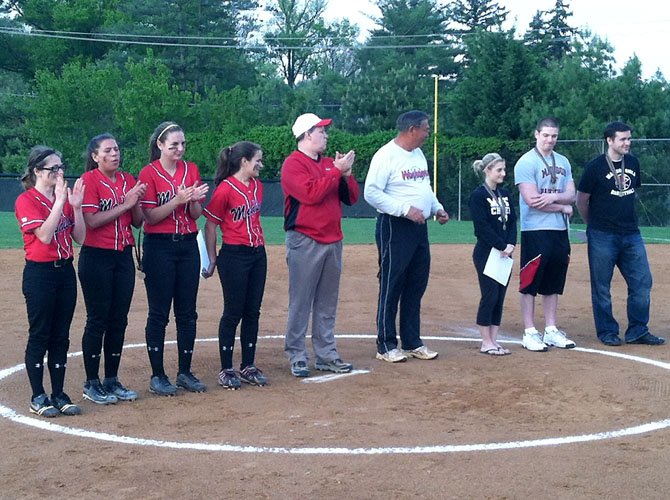 Vienna — Since its eight-game win streak ended with a loss at Liberty District opponent Stone Bridge High in Ashburn on Friday, April 27, the Madison High Warhawks girls' softball team has gotten back into the win column with a pair of district shutout wins. Both victories came last week.
Madison, under head coach John Schneeberger, opened the week with a 4-0 win at South Lakes in Reston on Monday, May 1, then defeated visiting Langley High, 1-0, last Friday night, May 4. The wins improved Madison's overall record to 14-4 and put the Warhawks at 10-2 in the district. Both Liberty setbacks have come to Stone Bridge.
The eight-team Liberty District tournament is set to begin next Wednesday, May 16. Madison will host a first round quarterfinals game at 6:30 that evening.
But prior to the start of the postseason, Madison was set to wrap up its regular season schedule this week with its final two district games - home versus rival McLean High (Senior Night) on Tuesday, May 8, and at Jefferson this Friday night, May 11 at 6:30.
"I think we are ready to go," said Schneeberger, of his team's focus on wrapping up the regular season in strong fashion and its readiness for the upcoming district tournament. "Everyone is working hard right now. We won a tough game against Langley. We play McLean on Tuesday which will be another good game."
Across the board, Schneeberger said his team is playing well as the seasons most important stretch - the playoffs, districts followed by the Northern Regionals - will soon be underway.
"Pitching is steadily improving and we have two good pitchers," said the coach. "Our defense gets better every day and it is solid. We are getting key hits from different players. I'm very proud of what the girls have accomplished so far this year. They play as a team and everyone contributes every night.
"Our goal for the playoffs is to get to play on Memorial Day," said Schneeberger, of the festive, holiday slate of region quarterfinals (second round) playoff games. "After that, anything can happen. The ultimate goal always is to win a district, region and state championship."
IN FRIDAY'S PITCHING duel win over the Saxons, which lasted just one hour, 10 minutes, both Madison's Kelsey Ross and Langley's Emily Templin were terrific on the mound for their respective teams.
Ross, in the complete game win, allowed just one hit - a two-out, line drive triple into right field off the bat of Saxons No. 9 hitter Maggie Natal in the top of the sixth inning of a scoreless game. Ross struck out the following Langley batter to end the scoring threat and retire the side.
Madison, in its half of the sixth, scored what would prove to be the winning run. Alex Alvarez, Madison's No. 9 batter, started things off with a long double to right field which nearly left the park. She then advanced to third base on teammate Kat Olson's ground ball out to second base. Two batters later, Ally Grasso knocked a solid single up the middle to score Alvarez and give the Warhawks a 1-0 lead.
Ross retired the Langley side in order in the Saxons' final at-bats in the top of the seventh - all on groundball outs to third baseman Mary Bolinger - to end the game.
Along with the big late-game base hits from Grasso and Alvarez, Madison's other hits in the game came from Jackie Yahner and Ross.