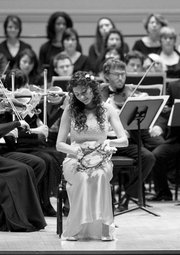 McLean theatre and opera fans are in for a treat. A highly-acclaimed production of "Oh My Son," a dramatic opera about the life of Jesus, will be performed at McLean's Lutheran Church of the Redeemer on May 20.
The opera was composed by Marcos Galvany, and it will make a one-night stop in McLean. The production had its world premier at Carnegie Hall in 2010 and it is scheduled to perform next year before an audience of 8,000 at the Vatican.
Galvany started composing at a young age. In fact, the first aria for the opera was taken from a melody he composed as a seven year old.
Matt Osifchin, one of the performers and the chorus master for the opera is the Director of Music at McLean's Lutheran Church of the Redeemer. He has been working to bring the professional production to McLean. "I thought it would be a great opportunity to bring it into the northern Virginia area," Osifchin said.
The event will have a professional 19-piece orchestra drawn from the Washington Opera Orchestra. It will also feature the original cast.
"People really loved it," said Galvany. "It is very powerful." The aria is performed by Mary who is watching her son's crucifixion. "Even though she knew he was the son of God, she was crushed. He was asking his mother, 'is there anything you can do, I just don't want to die. I'm scared.' It's very emotional with the characters," Galvany said.
Osifchin said that they were able to raise enough money for the McLean production so that tickets will be available at a "free will offering. We want to make the tickets available to as many people as possible," he said. "People can give as little or as much as they want to donate to the event."
However, tickets to the May 20 event are limited. Those interested in reserving a ticket for the opera should visit the Lutheran Church of the Redeemer website at www.RedeemerMcLean.org.