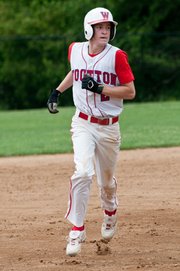 Potomac — Junior second baseman Brett Keenen jacked a three-run homer in the bottom of the second inning on May 5, clearing a path for the Wootton baseball team to capture a senior day victory over Blake. The Patriots led 5-0 and starting pitcher John Stoeber was cruising.
But things quickly went south for the Patriots, who surrendered six runs in the third — including a grand slam — en route to an 11-8 loss at Wootton High School.
Keenen finished 3 for 4 with a home run, a double to the fence in left-center and four RBIs, but struggles on the mound and five fielding errors doomed the Patriots.
"We just made too many mistakes," Wootton head coach J.D. Marchand said. "Stoeber did a nice job pitching, he just hung a couple balls up there, which they were able to hit two home runs off of, [including] one grand slam.
"[Keenen] did well. That was his first home run over the fence. He struggled a little bit at second base, but overall he swung the bat well today and that's what we needed, we just couldn't carry it over."
Stoeber suffered the loss, allowing nine runs — eight earned — on six hits while walking three and striking out seven over five innings. Ben Hindman allowed two unearned runs in two innings of relief.
At the plate, Glenny Woolschlager went 2 for 4 with a home run and two RBIs. Hindman was 2 for 3 with an RBI. Matt Hsiung and Boaz Ru each had one hit.
"Our pitching's been pretty solid all year long," Marchand said. "We're hitting the ball consistently. We put up [eight] runs today, you would hope that would be enough."
The loss dropped Wootton's record to 10-7. The Patriots were scheduled to host Paint Branch on May 7. Results were not available prior to The Almanac's deadline. Wootton will conclude the regular season at Wheaton on Wednesday, May 9.
— Jon Roetman