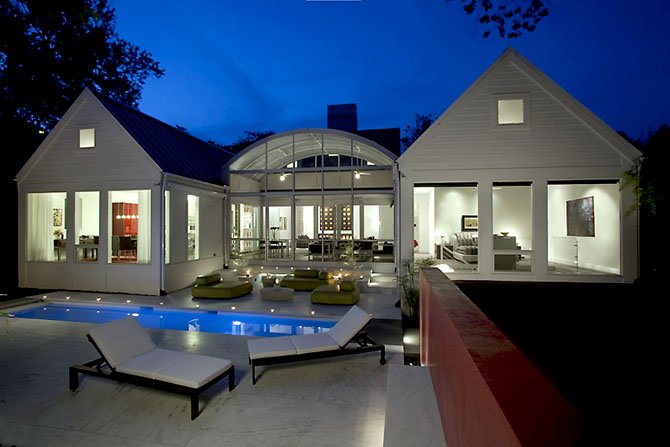 Potomac — It's time for the annual 2012 Potomac Spring House Tour hosted by Har Shalom — an opportunity to stroll through five of the most elegant and exquisite homes in Potomac and Bethesda. This show features five homes that offer the tour guests a chance to view gardens, furnishings, antiques and art. It is an opportunity to view trends in decorating, architecture and landscape design.
Jack Markowitz and Joan Levenson are co-chairs of the 2012 Spring House Tour.
"We have five special homes of distinctive quality this year," said Levenson. "One of our Potomac homes has an astounding display of Staffordshire pottery and artwork done by local artists. The Renwick Gallery frequently has tours of this home."
Markowitz added, "What impressed me about this year's tour is that we have two homes that were essentially rebuilt from the ground up. What a masterful job the architects did to fit the new houses within the old footprint and community covenants, while creating a new contemporary look and feel."
In addition to Levenson and Markowitz, the honorary chair is Sari Raskin, wife of Har Shalom's Rabbi Adam Raskin. She states,
"I am thrilled to be the honorary chair of this year's Har Shalom Potomac Spring House Tour," said Sari Raskin. "The House Tour is an opportunity to showcase Har Shalom and demonstrate how the congregation cares about and supports many local and national charitable organizations. I am excited about the event — what a great way to have fun and do good at the same time."
New this year is the "Bagel Breakfast Box" which will be for sale from 9 – 11 a.m. on Sunday, May 20 at Congregation Har Shalom. These breakfast boxes may be eaten in or taken in the car to help fuel tour participants. Breakfast boxes must be ordered by Friday, May 18 at www.potomachousetour.org or by calling 301-299-7087 x 336 and can be picked up Sunday morning along with the tour bags and maps.
According to Markowitz, "Over 150 volunteers provide the energy and resourcefulness to make the Potomac Spring House Tour a success. The proceeds benefit the many local and international charities that Har Shalom Congregation projects support." A few of these include A Wider Circle, The Children's Inn at NIH, Manna Food Center, Fisher House and Camp Caring.
House A is an adaptation of the 1998 Life Magazine Dream House design by Washington D.C. architect Hugh Newell Jacobson. This home was created in 2005 when the home's owners collaborated with Anthony Wilder Design/Build Inc. and tore down their mid-century rambler. The home features a large kitchen/dining room with Italian red lacquer cabinets, long counters and a floating glass range hood. A screened porch with an arched roof is a fabulous addition for outdoor summer entertaining.
Located in the eclectic community of Cabin John, the second house on the tour (House B) is a 6500-square-foot arts and craft style home. This home has an award-winning back yard with a pool, fireplace and built-in gas grill designed by Botanical Decorators. The home includes numerous art pieces, transitional furnishings and accent pieces and two upper levels, one with an apartment for the couple's college age son.
House C is an elegant 7500-square-foot European chateau on 2.5 acres and furnished by designer Carole Lindenberg of Potomac Designs. Many of the antique furnishings for this 6-bedroom, 8-bath home were purchased in Europe. The large country kitchen has an antique Parisian island made of Volcanic stone and the kitchen cabinetry is made of antique, limed oak. The 16th century fireplace in the family room was found outside of Paris and the wooden storage cabinet doors in the master bathroom came from London. The grounds are modeled after an English garden with French doors opening to terraces, a pergola and a swimming pool.
House D features art and crafts from all over the world. The home has a modest exterior, but the owners have collections that will delight every tour participant. A bright expansive great room and a luxurious renovated master bath filled with marble and glass are just a few highlights of this home.
Architect Douglas Soe Lin created the design for the renovation of House E. He gave the home a new look and feel. The large kitchen and dining space features solid maple cabinets and granite countertops. The deck takes the shape of the deck of a boat — with a custom designed two-story fire pit. This home in Carderock Springs is sometimes referred to as "The Pretty House."
Tickets for the tour and raffle tickets can be ordered on the House Tour website: www.PotomacHouseTour.org, or at Congregation Har Shalom, 11510 Falls Road, Potomac. If tickets are still available on the days of the tour, they may be purchased at House A on Falstone Court near Surry Street, Somerset (Chevy Chase) or at House E (Still Spring Court near Fenway Road, Bethesda on tour days between 9:30 am and 4 pm. Tickets will not be available at any of the other homes.
Those with an advance purchase receipt, must pick up tickets at Congregation Har Shalom. Tickets are $25 — cash or check only if purchased on house tours days. Each purchaser will receive a 2012 Potomac Spring House Tour tote bag containing a Guide Book, disposable booties, which must be worn in the houses and a map showing the locations of the homes on the tour.
Raffle tickets are $5 each or 6 for $25. Raffle prizes include Strathmore tickets, Redskins, Nationals, and Kastles tickets, decorating services, salon services, spa treatments, restaurant gift certificates and more.
For more information, go to www.potomachousetour.org or by call 301-299-7087 x336.