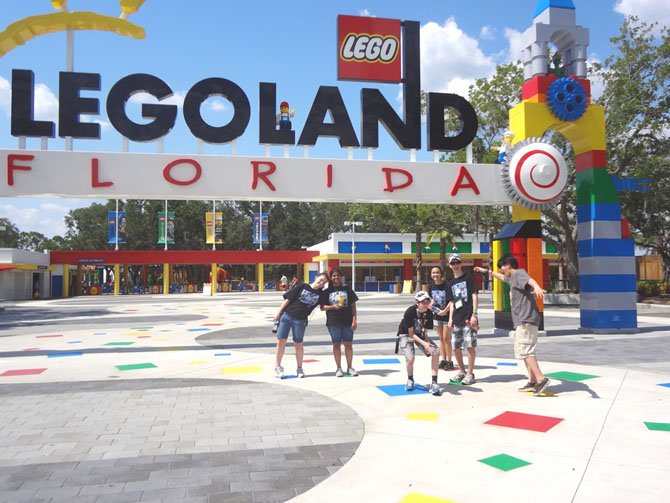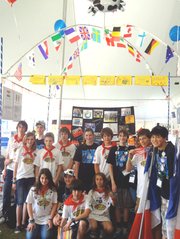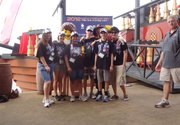 The Brainy Bunch First Lego League (FLL) team, which includes six 8th grade Kilmer Middle School students, won 2nd Place overall in the Research category at the FLL World Invitational Open hosted by the University of South Florida and Legoland on May 3-6. The Brainy Bunch earned the honor of representing Virginia and D.C. at the World Festival by winning the 1st place overall Grand Champion Award at the VA/DC State tournament in December.
This year's FLL Theme Challenge was Food Safety. The team's research and subsequent innovative multi-tiered solution for the detection of milk contaminants from farm to table was well received by professionals throughout the season in the field of Food Safety. The team integrated the emerging, cutting edge Terahertz technology to detect contaminants along the entire food supply chain, which impressed the judges. Their Terahertz device has also been entered into a Global Innovation Award competition.


THE BRAINY BUNCH team banner showcased several local teams' photos and logos to show appreciation for their support. With 61 championship teams from 15 countries around the world, including Bermuda, Brazil, Canada, Cayman Islands, Columbia, France, Germany, Israel, Japan, The Netherlands, Peru, Puerto Rico, South Africa, Spain and the United States, the tournament was a mix of cultures, different approaches to robot design and new approaches to food safety. The four days were filled with a frenzy of activities, competitions, sub-competitions and celebrations of the FLL season. The Brainy Bunch made international friendships to with their French Alliance team from Bordeaux, France. The extent of teamwork and support between the two teams was clearly visible after the teams won 1st and 2nd place spots out of 36 teams during the first-ever Robot Derby sub-competition in honor of the Kentucky Derby.

To honor the World teams and share their own diverse backgrounds and nationalities (which include India, China, Germany, Poland, France, Ireland, Sweden and Korea), The Brainy Bunch chose an international theme to decorate their booth by showcasing different nationalities and their contributions to the world, and by welcoming teams in 8 different languages.
The Party Rock Anthem Flash Mob Dance Party led by the Brainy Bunch team members, which brought 62 teams together on the dance floor, was just one of the many impromptu events that made this experience special for all the teams. The judges particularly enjoyed The Brainy Bunch Team Song, which starts out: "Here's the story, of some kids from Kilmer..." Stay tuned as the words to this song may be re-written multiple times as all six students are headed to Thomas Jefferson High School for Science & Technology in the fall.


THE TEAM'S 30-second intro video which can be viewed here: http://www.blindpirate.net/Page2.html (click on BRAINY BUNCH)
To learn more about the Brainy Bunch and their work throughout the 2011/12 season, visit: http://halfadozennerds.webs.com/
Check out a recent TV interview airing on Red Apple 21 this month: http://dl.ebmcdn.net/fcps/mp4/schoolscene/2012/ss14_brainybunch.mp4
To learn more about First Lego League and next year's challenge, visit: http://firstlegoleague.org/challenge/2012seniorsolution