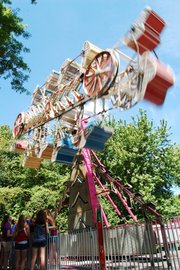 The McLean Community Center's (MCC) annual community festival McLean Day 2012: "Celebrating Our Hometown" is on Saturday, May 19. Area residents are invited to come out and bring every member of the family for a fun day of outdoor activities. The festival will be held from 11 a.m. to 5 p.m. at Lewinsville Park, 1659 Chain Bridge Road. Admission is free.


THE YOUNG AND THE YOUNG-AT-HEART will find lots of fun options this year. Games 2U of Huntingtown, Md., returns for a second year of field games, such as laser tag, archery tag and a cannon. Reithoffer Shows is bringing the Orbiter and a number of large carnival rides. Full Tilt, The Ring of Fire, Pharaoh's Fury, Starship 3000 and bumper car rides are also returning. Ticket sales for the large rides will begin at 10:30 a.m. and will end at 4 p.m. Tickets must be purchased with cash only. Most large rides cost $4 (or two tickets). An unlimited ride bracelet can be purchased for $20. Riders are encouraged to arrive early to get tickets as long lines develop. Other attractions include a rock climbing wall, carnival games, pony rides and face painting. A special area called the KidZone Midway features a variety of small, mechanical rides and bounces that toddlers and small children can enjoy.
Four new food vendors are coming to McLean Day this year and they will expand the food offerings significantly on Eatery Row: Pepper Creek Shellfish Farm, Suya-to-Go and Dee's Concessions, along with the popular Tysons area food truck,
Something Stuffed (http://www.somethingstuffed.com ) will join other favorites such as The Tender Rib (http://www.thetenderrib.com), Minute Man Kettlecorn, Brad's Concessions and Domino's Pizza. As always, bring your appetite to McLean Day.
The McLean Day Stage has something for everyone in the family.


PARKING is not available at Lewinsville Park on the day of the festival, so MCC strongly encourages participants to use its free shuttle service. Starting at 9:30 a.m. and continuing throughout the day, shuttle buses will run from the park to McLean Baptist Church, 1367 Chain Bridge Rd., Lutheran Church of the Redeemer, 1545 Chain Bridge Road, and MCC, 1234 Ingleside Avenue. Parking also is available at the Lewinsville Senior Center, 1609 Great Falls
Street, and the Center will run airport-style shuttle carts from Evers Drive, located at the rear of the building, to the park all day.
For festival updates, driving directions, shuttle bus stop locations and a festival area map, visit: www.mcleancenter.org/special-events/mcleanday.asp or call the Center at 703-790-0123/TTY:
The Center's telephone will be answered from 7 a.m. to 3 p.m. on the day of the festival.