Rock Spring Congregational United Church of Christ in Arlington will celebrate its 100th anniversary with a weekend full of events May 18-20, culminating with a worship service and traditional Strawberry Festival.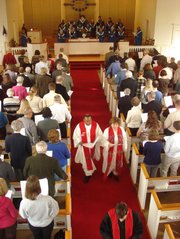 The church, located at the intersection of Little Falls and Rock Spring roads, has been serving the community since it first organized at the same location in 1912 as Vanderwerken Congregational Church, named after the closest stop on the trolley line that then ran along what is now Old Dominion Drive to Great Falls Park.
The church's first pastor was the Rev. Franklin Noble, who had previously served as minister of the Falls Church Congregational Church. Noble, then living with his daughter, came out of retirement to lead the fledgling congregation.
Rock Spring Church's Rohrer Memorial Library was the first library opened to the public in Arlington County, and the church also provided a home to the county's oldest Boy Scout Troop, Troop 106. During World War II, its members also helped organize the still-thriving Rock Spring Cooperative Preschool, the county's oldest cooperative preschool.
The congregation and its members were also instrumental in founding and supporting a number of local non-profit organizations, including Hospice of Northern Virginia (now Capital Caring), Meals on Wheels, FISH (For Immediate Sympathetic Help), the Arlington Food Assistance Center (AFAC), Arlingtonians Meeting Emergency Needs (AMEN) and the Arlington Housing Corp (AHC Inc.).
In the mid-20th century, the congregation, its pastors and individual members brought leadership to the drive to improve and later desegregate the Arlington County public schools, and other public facilities in the county. More recently, the congregation has advocated for marriage equality for all persons, regardless of their sexual orientation.
Two of the congregation's former senior pastors — the Rev. Sidney Lovett (1957-66) and the Rev. Charles Wildman (1989-2008) — will be returning for the centennial events. They will join the church's current senior pastor, the Rev. Dr. Kathryn Nystrand Dwyer, in leading worship services at 9 a.m. and 11 a.m. on Sunday May 20. The service will also feature a new anthem commissioned in celebration of the centennial. Also returning will be Joanne Booth, wife of the late Rev. George Booth, who served the church from 1967 to 1987.
Church members have included former Arlington County Board members Ellen Bozman and James Hunter, son of the church's first full-time pastor, the Rev. Paul Hunter, and former state Del. Mary Marshall. The Virginia General Assembly recently adopted a resolution and the Arlington County Board a proclamation, marking the church's centennial. The county proclamation noted, in part, the church's "constant commitment to democratic decision-making and consensus building and to a vision that looks beyond its immediate neighborhood."
More information on the church, its ministries, and the centennial celebrations is available on its website, www.rockspringucc.org.