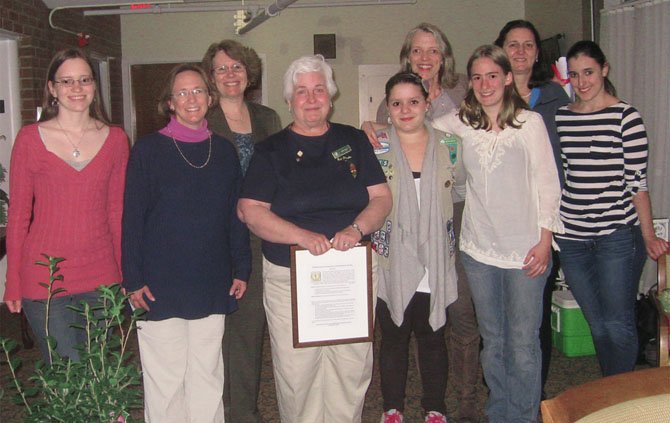 It was billed as the Special Awards Ceremony for her Senior Girl Scouts, but Troop Advisor Linda Kelly got a surprise. Moments into the meeting, representatives of her Ambassador Troop 2615 and Service Unit Manager Gretchen Schreiber joined with the Seniors to present Kelly with gifts and the highest award for leadership bestowed on a Girl Scouts Troop Advisor — the Jan Verhage Spirit of Leadership Pin.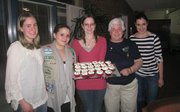 "I never expected this," said Kelly. Her Ambassador Troop, however, had worked on this award for several months. Again and again, they asked themselves how they could show their gratitude to someone who has been an inspiring Girl Scouts Troop Leader for over three decades. How could they thank this woman who takes care of four troops at a time and has made Girl Scouts her daily life? The Girl Scout Council of Washington contemplated this question a few years ago and decided to institute the Jan Verhage Spirit of Leadership Award in honor of its former executive director, who has a legacy of selfless commitment to girls and Girl Scouting. Kelly's Ambassador Girl Scouts felt that their leader showed the same selflessness, inspiration, dedication and love.
On Monday, April 23, the troop surprised Kelly and presented her with this gift of distinction. Schreiber and Monika Hoffarth-Zelloe, the assistant troop advisor, summarized in short speeches the outstanding leadership service that Kelly has performed during the last 30 years. They said that "no member in Service Unit 60-8 more fully embodies the Jan Verhage Leadership values than Linda Kelly."
Over the years, Kelly has empowered hundreds of Girl Scouts, inspiring them to serve in their community, encouraging them to attend and participate in council programs, showing them how to help others, and motivating them to try new things. Schreiber reminded everyone that "many girls have taken their first international trip under Linda Kelly" — trips to Mexico, England, or India. Kelly has additional proof of her encouragement and enthusiasm — most of her Ambassadors will receive their Gold Award in the next few months, a goal that only a small percentage of Girl Scouts reach nationally.