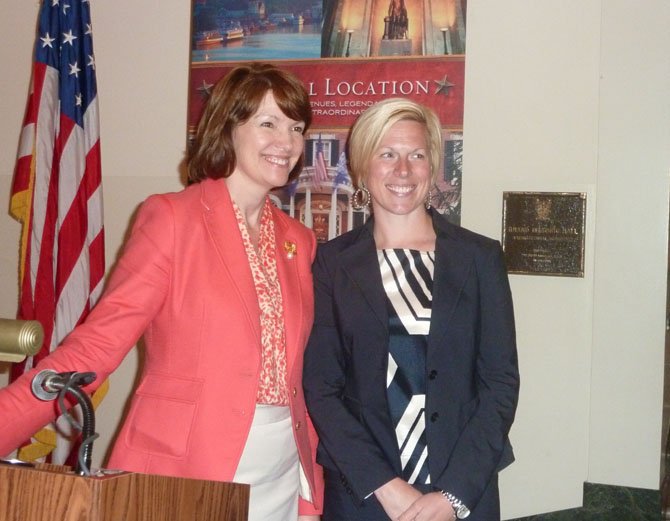 Alexandria — In celebration of National Travel and Tourism Week, the Alexandria Convention and Visitors Association presented the third annual Alexandria Tourism Marketing Summit May 10 at the George Washington Masonic Memorial.
"In a single year, visitors to Alexandria spend more than $650 million and generate $22.4 million in city tax revenue," said Mayor Bill Euille. "That lowers our property tax rate by 7 cents."
ACVA used the summit to unveil its new website, designed to be more interactive and user-friendly, according to Director of Marketing Anna Jones.
"The website uses a new booking engine that allows visitors to purchase attraction tickets, including our Key to the City booklet, online," Jones said. "A Google mapping 'What's nearby?' feature was also added."
The new VisitAlexandriaVA.com site integrates reviews from TripAdvisor and Yelp, with social media feeds from Facebook and Twitter available for each business listing.
Following a keynote address by Elizabeth McLaughlin, vice president of research for Virginia Tourism, breakout sessions were held on topics including press relations, social media and advertising strategies.
This year's breakout session speakers included Brian Payea, head of industry relations for TripAdvisor, Ben Isenberg, president of Isenberg Group, Sarah Zlotnick, associate fashion editor of Washingtonian magazine, Missy Frederick, reporter for The Washington Business Journal, Paul Raphel, FOX-5 TV segment producer for "Holly Morris Live," Maurisa Turner Potts, founder and CEO of marketing and public relations firm Spotted MP, and Karen M. Gonzales, senior vice president of Destination Marketing Association International.
"In the past five years, visitor spending in Alexandria has increased nearly 17 percent," said Euille, who also announced City Council's approval of a $100,000 increase in ACVA's advertising budget. "This success has outpaced our neighbors by far, with the average rate of increase for Virginia at just seven percent.
McLaughlin wrapped up the main presentations, saying, "At the end of the day, what's good for the tourist is good for the resident."