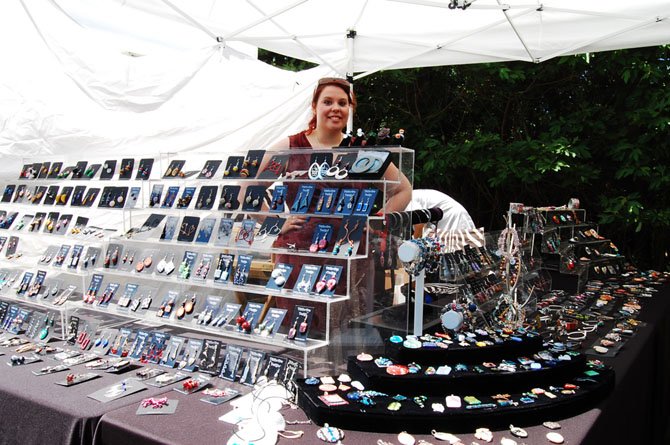 For More Information
For festival updates, driving directions, shuttle bus stop locations and a festival area map, visit: http://www.mclean...">http://www.mclean..., or call the Center at 703-790-0123/TTY: 711. The Center's telephone will be answered from 7 a.m. to 3 p.m. on the day of the festival.
The expo area of the McLean Day 2012 festival is a rich resource on all things McLean. Local businesses, non-profit organizations, artisans and gourmet food purveyors reside side-by-side just waiting to share a wealth of information on their causes, products or services. Produced by the McLean Community Center (MCC), the festival will be held from 11 a.m. to 5 p.m. on Saturday, May 19, at Lewinsville Park. Admission is free. The park is located at 1659 Chain Bridge Road.
Non-Profit Organizations
At press time, non-profit, government and political organizations participating included: 495 Express Lanes, American Legion Post 270-McLean, Brookfield School, Central Intelligence Agency, Chesterbrook Residences, Christian Science Reading Room, Compassion for Animals, Cooper Trash Parkout, Dranesville District Democratic Committee, Dranesville GOP, Dulles Corridor Metrorail Project, Fairfax County Office of Human Rights & Equity Programs, Fairfax County Board of Supervisors' John Foust, Fancy Cats Rescue Team, Freedom Hill Chapter DAR, Friends of Barbara Comstock, Lend-a-Paw, McLean Baptist Church, McLean Citizens Association, McLean Community Players, McLean High School Athletic Boosters, McLean High School Varsity and JV Sports, McLean Historical Society, McLean Newcomers Club, McLean Project for the Arts, McLean Youth Athletics, New Dominion Women's Club, Providence Baptist Church, Quality of Life Plus, Redeemer Lutheran Church, Safe Community Coalition, and the Woman's Club of McLean.
Businesses
McLean Day sponsor, Drs. Luposello & Marzban, DMD, PC, is among the more than 50 business represented: Amano Artisans, A-Plus Pets, AV Remodeling and Construction, Bach to Rock, Ballet Petite, Burke & Herbert Bank, Capital Remodeling, Inc., Caribbean Crystals, Chain Bridge Bank, Chain Bridge Cellars, Codwell Banker Residential Brokerage, Dodge-Chrome McLean, Dogtopia, Dominion Green Power, Dream Yoga Studio and Wellness Center, Edge Home Energy Services, Enopi Mind Builders, Fine Renovations, Inc., Georgetown Learning Centers, Greater McLean Chamber of Commerce, Greater McLean Republican Women's Club, Gutterman Services, Inc., Immanuel Presbyterian Church, ING Financial Partners, Inc., INOVA Internal Medicine, John A. Schehl, DDS, PC, Joy of Dance, Keller Williams Realty, Leaf Filter of Northern Va., Inc., Leaf Guard of MD & NoVa, Mathnasium of McLean, McLean Oral & Maxillofacial Surgery, McLean Racquet & Health Club, Miche, Mirasa Design, Inc., Moran for Congress, Nutrition Master Foods, Old Dominion Animal Health Center, PalmerCare Chiropractic, Paul Mitchell the School, Peake Management, Inc., Pengu Studio, Prince William Home Improvement, Renewal by Andersen, Salon Daniel, SH Kim Tae Kwon Do, Sherwin-Williams #5118, Skinner & Ossacow, DDS & Associates, Sport & Spine Rehab, State Farm, The Living A Dream Real Estate Team, The Soccer Pros, LLC., Top Tier Tutoring & College Advising, Tuckahoe Recreation Club, Tutoring Club, Twin Tech, Unity USA, Inc. (Smartisight), Vector Security, Vinson Hall Corporation/Arleigh Burke Pavilion, Washington Fine Properties, Wheat's Lawn and Custom Landscaping, Inc., Yummi Bebe, LLC.
Crafts and Gourmet Foods
Crafters, artisans and gourmet food purveyors that are participating this year include: Capital Art, Designs by Shanti, Distinctive Design, Doodlebug Quilts, Marissa Molinaro, Milly's Organics, Pearls Plus Designs, Pia 'n Stitches, Sovereign Treasures & Kalise and Wireworks.