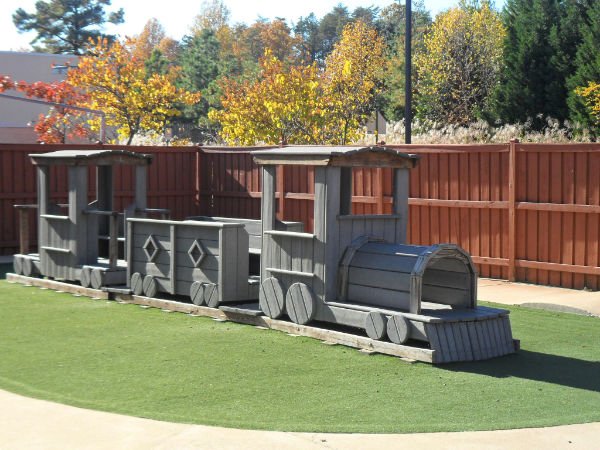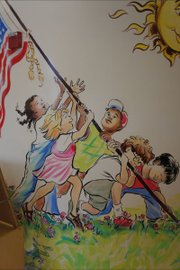 The Northern Virginia Academy of Early Learning sits quietly in a corner of the shops of Lorton Valley center giving away little with its typical brick and glass store front look. But just get through those secured main doors, and you enter into a world of color, imagination, learning and lots of hugs. The entry and halls are all hand-painted with scenes from books that are familiar to the young students and it is not uncommon to see them "greet" the colorful characters. The splashes of color continue in all of the neatly kept classrooms, well furnished with everything needed to keep those youngsters productively occupied. Make-believe is also encouraged on the playground where young "travelers" and "conductors" can hop aboard a replica train when they are not engaged in typical running around and jungle-gym activities.
The state licensed private day school, open from 6:30 a.m. – 6:30 p.m. Monday through Friday, provides educational and recreational programs and activities for children from infants to pre-school, as well as an after school program for children up to twelve. With so many child care facilities to choose from, why does Director Mahrukh Aziz think the Academy is special? "One thing is that we are not a big chain," she says. "Our administrator, Fran Gattis, has 33 years of experience. She is very hands-on. She knows what's going on here and really cares." Both Aziz and Assistant Director Angie Gould were quick to also note that most of the staff are long tenured, something they say is not that common in the industry. "We know all of our students. Who needs an extra hug, who wants to be the helper, who just needs a little extra help."
While there are appropriate rest periods, the Academy's curriculum includes plenty of activity geared toward each age group. The children are engaged by the staff, not just left to their own devices. There are reading programs, math exercises, science experiments, Sign Language and Spanish, even field trips to places like the Reston Zoo. And things won't slow down just because it's summer time. "Our theme this summer is the Olympics and the World of Sports," Aziz explained. "In addition to keeping up all the learning activities, there will be an emphasis on fitness and sports."
The Academy is located at 8931 Ox Road in Lorton. Director Aziz and staff invite parents and guardians to contact them for a tour or more information about the school…and to step back for just a few minutes into the wonderful, colorful world of childhood.