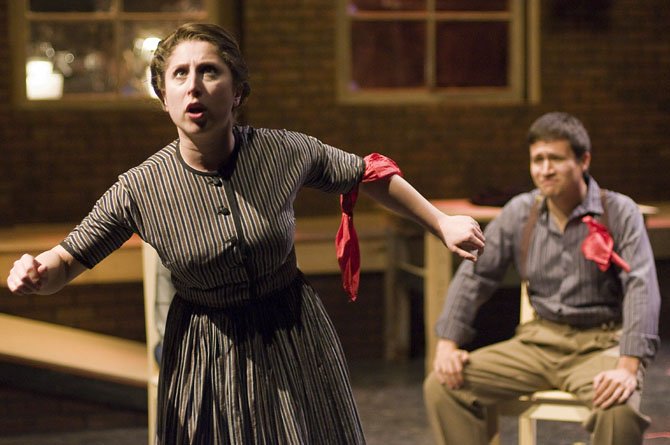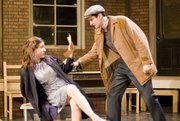 It is daring of 1st Stage to take up the not often produced musical "Flora the Red Menace." It is a show that ran for only 87 performances in mid 1965. It is a musical about out-of-work actors putting on a musical about the search for love and jobs set in the Depression when lives were hurting.
While it didn't last long on Broadway, "Flora, the Red Menace" is a show with a great pedigree. It was the debut for the young Liza Minnelli. She won the Tony Award for Best Actress in a Musical for her performance as Flora. It was also one of the first collaborations for the Kander and Ebb, who went on to write award-winning musicals such as "Cabaret" and "Chicago."
The "Flora" story is set in 1935 New York City. The economic woes of the Depression abound. Lives are stressed out. And there is Flora, a determined young woman who wants a job in the fashion industry. She meets Harry, a young man who wants her to become a signed-up, dedicated Communist Party member. Love and politics begin to float about.
With lively direction by Susan Devine, the cast of nine take on any number of characters though each has a central presence throughout the production. Under musical direction by Paul Nasto, a seven-piece band slides through a score of 18 diverse songs that range from ballads to spirited, up-tempo pieces. There are times when the cast can seem played over by the band
Stefan Sittig's choreography keeps the action moving with determined actors turned dancers. One of the "wow" choreographed scenes is when Kelsey Meiklejohn and Sam Edgerly tap dance an energetic, synchronized duet.
There are no show-stopper songs that carry beyond their purpose within the musical itself. Their titles give a sense of their function, "Express Yourself," "Unafraid," " Sign Here," "You are You" and "Sing Happy." Mary Beth Luckenbaugh in a supporting role has a stand-out lovely voice that comes through even in larger ensemble offerings.
Where and When
1st Stage presents "Flora the Red Menace," 1524 Spring Hill Road, Tysons Corner, VA. Performances thru June 17. Friday-Saturday evenings 8 p.m., Saturday matinees at 2 p.m. Sunday's at 2 p.m. and 7 p.m. Tickets: $30, Visit http://www.1ststa...">www.1ststagetyson... or call 703-854-1856.
The earnest Dani Stoller is a sweet, caring Flora. At times, a needed passion seems missing to nail her role. Joshua Dick, her love interest, flourishes more when paired with Sherry Berg, a dynamic comedienne. Berg energizes the production with a voice that saturates the theater along with a big glint in her eyes.
"Flora" is another step for 1st Stage's building regional reputation.