Victoria McCaffrey, seventh grade student at St. Charles School in Arlington, is this year's top awardee in Virginia's American Legion essay contest. The first place certificate is accompanied by a prize of $250.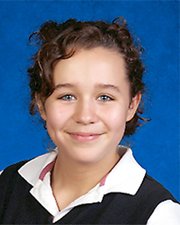 When asked about the subject of her paper, Victoria said, "I hope [my mom] sees that I do appreciate what she has done to give me a better life."
John Mallon, long-time member and former Commander of Arlington's Post 139, notified the school of the award. Middle school teacher Kate Knox extended congratulations to the student, but also acknowledged the several teachers who helped develop the writing skills underpinning the winning essay.
Living in America
I like living in America because of all the great opportunities. Anything you want can be yours if you want it enough and work enough at it. My own mom is an immigrant. She immigrated to this county from the Dominican Republic. She was from a poor family, knew not a word of English, and had a terribly sick father. She learned English by herself and put herself through college with multiple jobs. No job was too menial. She is now a successful lawyer for the United States Government. So, the number of opportunities in America is very clear to me, and I very much appreciate it. I like living in America because it is a mish-mash of entirely different cultures. Most of the things that are identified as "all American" are from different countries. Like hamburgers, for example, they were created in Germany. Ice cream also, that was created in China. I love that about America because, no matter what your heritage, if you live here you are one of us. My parents were both born in different countries. I am the first generation in my family to be born here. And I am very proud to be an American.