Herndon — Since April, Keith Naquin has been hard at work on a brick wall. The artist was recently contracted by the Council for the Arts of Herndon to transform the rear of the NAPA Auto Parts building in downtown Herndon into a picturesque glimpse of rural life.
Naquin recently retired from teaching art, photography and computer graphics at Herndon High School. He started his own business, as he puts it, "actually doing the things I've been teaching," which is designing logos and graphics.
Seen from Locust street, Naquin has been transforming 93 feet spread over three separate walls, each 13 feet high. It's made of cinderblock, which Naquin says makes it harder to get the small details and lines down. He spent the first few days scraping the existing paint off, then putting on two coats of primer.

ABOUT A THIRD of the painting is a cloud-filled sky, which then gives way to rolling green mountains and gently sloping fields, ponds and several other rural landscape features, a barn, vineyard, pond and more.
"I like to work in layers, so I'll slowly build it up, from bigger details to small," he said. "And I constantly have to step back and look, because up close it can look completely different."
Naquin is also incorporating the building's features into his landscape. The floodlights on the corners will become part of a painted lamppost, and the rear entrance door is now part of a gazebo.
"I thought it would be a cool idea to be able to enter the gazebo, I just had to figure a way to use that door," he said.
Naquin says his inspiration comes from pictures of winery tours he's taken, as well as the landscape along Route 81 going south. The father of six children who went to schools along that corridor, he said it's a trip he's made many times.
He says he's thankful that it's mostly been good weather so far, he's only had to redo a few things. The project has been more demanding than his teaching schedule, he works from 9 a.m. to 6 p.m. Monday through Friday, and then a half-day on Saturdays.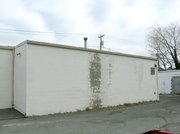 "It's been more challenging than I thought because of the sheer scope, but I've really enjoyed it," he said. "In fact, I can't wait to go to work. I show up, put my iPod in, and I just get engrossed, I can lose track of time quite easily."
Even when he gets home after a long day, Naquin says he's "always pondering" his next move, and when he can, he'll even head to a place like Skyline Drive for inspiration. He credits the Council for the Arts of Herndon with conceiving of the project.
"They're trying to keep arts alive, and this is a great way to spread it
around Herndon, and turn an old dilapidated building into something special," he said. "For me personally, I was in a quandary when it came to finding something to do after retirement, and I'm just so grateful that I can do something that's truly my passion."
His work has already brightened up the daily routines of several local residents.
"I walk my daughter to Herndon Middle School, and it's become a special part of my day," said Julia Montague, who lives on nearby Oak Street. "We have a game, where every day we look at it in the morning, and when I pick her up we try and see what has changed throughout the day. She has so much fun that on weekends she'll ask me, 'what do you think will be there next?'"


RANDY SAEZ of Herndon said the mural has noticeably improved the feel of that section of Locust Street.
"It's like night and day looking at the building and the parking lot, it seems like it sort of radiates out to the surroundings as well," he said. "Before it was just a beat up old brick building and an old parking lot, but the colors make it a sort of beacon that just brightens up the whole block."
Naquin says he still needs to add details to the foreground of the mural, and says he hopes to be done around mid-June.
More information on the Arts Council can be found at www.herndonarts.org.