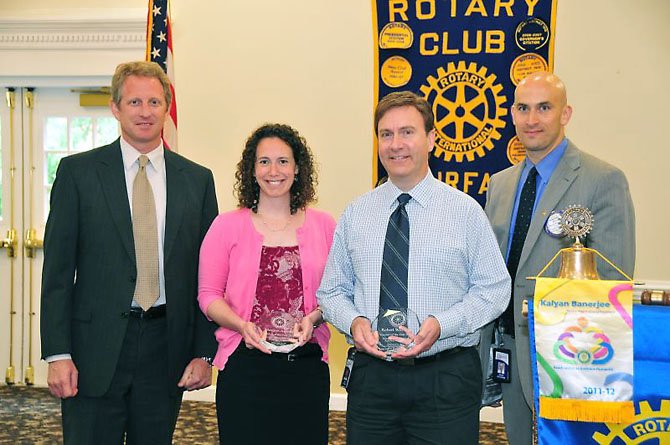 Robert Williams and Margaret Arnold each received the Teacher of the Year Award from The Fairfax Rotary Club on May 21.
Williams is a German Teacher at Fairfax High School and has been teaching for 28 years, 10 of them in the Fairfax County School System. Arnold is a math teacher at Lanier Middle School and has been teaching for seven years; four in the Fairfax County School System. The program, now in its 20th year, is designed to honor outstanding teachers from schools located in the city of Fairfax, to include: Fairfax High School, Paul VI High School, Lanier Middle School, Providence Elementary, Daniels Run Elementary, and St. Leo the Great Elementary.

Any FCPS teacher, administrator, or other staff member; student or former student; parent; Fairfax County government employee; or citizen may nominate a teacher for Teacher of the Year.
Both Williams and Arnold received a plaque identifying them as the Rotary Club of Fairfax's Teacher of the Year recipient. They also each received a check for $1,000.
The Fairfax Rotary Club is nonreligious and nonpolitical, and is open to every race, culture and creed. The members represent a cross-section of local business, professional, and community leaders.
The Rotary Club of Fairfax meets on Mondays at 12:15 p.m. at the American Legion Hall on Oak Street in Fairfax City. For more information about the Rotary Club of Fairfax, visit the club's website at www.fairfaxrotary.org. Or email Rotary Club of Fairfax's Executive Director Irby N. Hollans, Jr., at ihollans@earthlink.net.