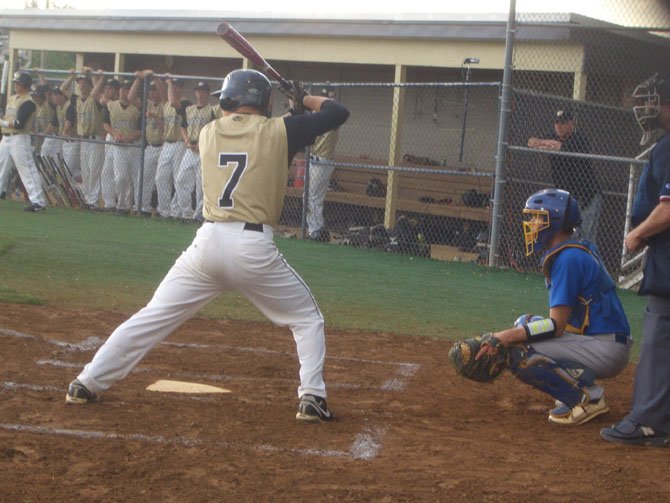 Centreville — Chuck Welch, the Westfield High baseball coach, is proud of his entire team for what it has accomplished this spring in reaching the Northern Region tournament baseball semifinals. But the veteran skipper is especially proud of his seven senior players who, prior to this spring, had never advanced so far in the postseason.
"I'm very excited for the players," said Welch. "This group has been together for a long time. This senior class has been to the [Concorde] District championship game four years in a row, and the region tournament all four years. They've done a great job not taking things for granted."
Following a loss earlier last week to Robinson in the Concorde District tournament finals, Westfield has come back strong with region tournament playoff wins over both Marshall (Liberty District), 5-1, last Friday, May 25 at Westfield, and Yorktown (National District), 8-5, this past Memorial Day Monday at Lake Braddock Secondary.

For Westfield's seniors, it marks the first time in their high school careers that the Bulldogs have gotten as far as the region round of four. Westfield was scheduled to meet Patriot District champion and perennial region power Lake Braddock on Wednesday, May 30 of this week in a semifinals game at James Madison High School in Vienna. The winner of that game will play for the region title this Friday evening at Madison.
IN MONDAY'S QUARTERFINALS win over Yorktown, Westfield received a strong starting pitching outing from senior Wade Arduini, who tossed three shutout innings of no-hit ball. Welch elected to take Arduini out of the game after three innings because his team had built up an 8-0 lead and he wanted to have the option of throwing Arduini versus Lake Braddock if needed.
"Wade was cruising along and throwing extremely well," said Welch. "It's always a risky move to [pull a pitcher early] when they're doing well."
Yorktown got back into the game to some extent when the Patriots scored all five of their runs over the fourth and fifth innings off of four different Westfield relievers.
But the Bulldogs got a lights out relief appearance from senior Kyle Corwin, the team's closer, who pitched perfect 1-2-3 innings in both the sixth and seventh innings to secure the win for Westfield.
Westfield had a big game at the plate, belting three home runs versus Patriots pitching. In the top of the third inning, Westfield scored five runs to break a scoreless tie, the big blow coming on a grand slam home run off the bat of junior Patrick McLaughlin.
In the fourth, Westfield got back to back homers from Matt Pisarcik (2-run shot) and Corwin to make it 8-0.
Yorktown would score three in the fourth and two more in the fifth to make it 8-5, and that was all the game's scoring.
"Every game we have a different hero," said Welch, of his ball club this season.
IN FACING LAKE BRADDOCK on Wednesday, Westfield was going up against a team which entered the region semifinals affair with a 21-2 record. The Bruins reached the semifinals with wins over Wakefield and McLean, the latter quarterfinals victory over the Highlanders coming in extra innings.
"They've been consistently the best team this year," said Welch, of Lake Braddock. "They're very good and we'll have our hands full. But its' baseball, and you never know what will happen."
Welch said strong pitching and defense have been the key components of his team this spring.
"Pitching is the thing that has gotten us to this point, and sound defense," he said. "We haven't hit a lot this year, but we've done enough."
Westfield's seven seniors are: Matt Pisarcik, Wade Arduini, Ryan Vosburgh, Sean Barry, Chris Bonner, Kyle Corwin and Bryan Drager.
Several of the current 12th graders have been a part of the Westfield baseball varsity the past four years and were part of district championship teams in both 2009 and 2010. Westfield, in 2011 and this season, reached the district title game before losing.