Fairfax Station — The Oakton cross country program had a strong showing at the Northern Region championships on Nov. 2 at Burke Lake Park. The girls' and boys' teams each finished runner-up in their respective races, earning a trip to the state meet.
The Oakton girls' team finished with a score of 92. Lake Braddock won the event with a total of 38. Chantilly (109) placed third and West Springfield (116) was fourth. South Lakes (248) finished 10th, Madison (275) was 11th, The top four teams and the top 15 individuals advance to states.
Oakton sophomore Allie Klimkiewicz placed fourth with a time of 17:16, which is the fasted time in school history. Hailey Dougherty (18:25) finished 17th, Briana Stewart (18:37) was 22nd, Maryn McCarty (18:45) finished 27th and Kristi Carrigan (18:49) was 30th.
"I was happy with the girls' finish but we realize we were fortunate with the final result of second place," Oakton head coach Alisa Byers wrote in an email. "Our region is very competitive and some highly respected programs won't be at states this year."
The Oakton boys' team totaled a score of 85, edging Robinson (87) for second place. Chantilly won the team title with a score of 39 and Lake Braddock (124) finished fourth. South Lakes (279) finished 10th.
Jack Stoney (15:29) led the Oakton boys' team with a fifth place finish. David Atkinson (15:53) just missed all-region with a 16th-place finish. Isamu Hosakawa (15:58) finished 23rd, Christopher Sprague (16:01) was 26th and Oliver Lopez-Gomez (16:07) was 38th.
"I was very proud of the boys' resiliency not only to make it out, but to come in second after our district performance," Byers wrote in an email. "We graduated six of our seven from last year, but this group of guys has learned how to race and when to fight."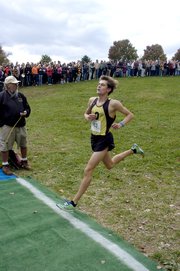 In individual girls' action, Lake Braddock's Sophie Chase won her third consecutive region title (she finished second her freshman year) with a time of 16:42, which tied her for the third-best time in the history of the Burke Lake Park course. West Springfield's Caroline Alcorta (second, 16:58), Lake Braddock's Hannah Christen (third, 17:08), Oakton's Klimkiewicz and Robinson's Macey Schweikert (fifth, 17:27) complete the top five.
The rest of the top 15 were: Lake Braddock's Katie Roche (sixth, 17:33), Chantilly's Alexa Cowne (seventh, 17:33), Robinson's Lauren Berman (eighth, 17:44), West Springfield's Maddie Wittich (ninth, 17:45), Lee's Bailey Kolonich (10th, 17:49), Washington-Lee's Sarah Angell (11th, 17:55), Edison's Jennifer Flack (12th, 18:02), Lake Braddock's Katy Kunc (13th, 18:08), West Potomac's Katie Genuario (14th, 18:15) and Westfield's Sara Freix (15th, 18:19).
South Lakes' top finisher was Devin Nieusma (24th, 18:39) and Madison's top finisher was Amanda Swaak (26th, 18:44).
Chantilly's Sean McGorty won the boys' race with a time of 14:19, which tied him for the second-best performance of all time at Burke Lake Park. Lake Braddock's Nick Tuck (second, 15:03), Chantilly's Logan Miller (third, 15:23), Edison's Louis Colson (fourth, 15:27) and Oakton's Stoney complete the top five.
Madison's Matthew Calem (15:30) finished sixth, followed by Robinson's John Tolbert (seventh, 15:30), Chantilly's Faris Sakallah (eighth, 15:30), Stone Bridge's Brady Guertin (ninth, 15:31) and Chantilly's Ryan McGorty (10th, 15:34). Rounding out the top 15 were: Herndon's Bradley Heuer (11th, 15:39), South County's Alec Jones (12th, 15:42), Lake Braddock's Alex Corbett (13th, 15:43), Marshall's MacKenzie Haight (14th, 15:44) and Washington-Lee's Haileye Demsie (15th, 15:46).
South Lakes' top finisher was Ashkan Mohammadi (16:04), who placed 31st.
The state meet is scheduled for Saturday, Nov. 10 at Great Meadow.