When Susan Gallagher's 5-year-old son had an allergic reaction to something he ate at a birthday party, the Reston mother knew she had to get him to an emergency room immediately.
"My first thought was which ER would have the shortest wait time and the best pediatric care," said Gallagher.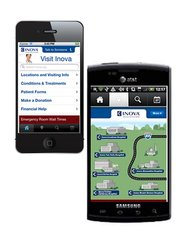 When Sander Hager called his internist's office to schedule an annual physical examination, he says he was kept on hold for 30-minutes only to learn that the doctor no longer accepted his insurance.
"I was bounced around from receptionist to receptionist," said Hager who lives in Chantilly. "I talked to at least three people and they all put me on hold. Even if I could have afforded to pay out of pocket, the next appointment they had available was two months away."
"What we're noticing is that more and more people are accessing information from their mobile devices."
—Chris Boyer, Inova
Fortunately, new websites and mobile telephone applications can provide patients with information to make some aspects of the health care process more efficient.

Inova Health Systems, for example, recently unveiled an application for smart phones that allows patients to check emergency room wait times, download patient information forms and even check hospital food and beverage options.
"What we're noticing is that more and more people are accessing information from their mobile devices," said Chris Boyer, director of digital marketing communications for Inova, which is based in Falls Church.
There's also ZocDoc.com, an online service recently launched in the Washington, D.C., region designed to help patients like Hager cut through the red tape of making medical appointments. The free service allows patients to search a database of participating doctors to find one who accepts their insurance. The website also allows patients to check the doctor's appointment availability and schedule appointments online.
"The average wait time to see a primary care doctor in Washington, D.C., is 30 days," ZocDoc's chief medical officer and co-founder, Dr. Oliver Kharraz, in a statement. "We … help patients find and see doctors within a matter of hours."
Still, there are skeptics. Donald Lavanty, chair of the Department of Healthcare Management and Legal Studies at Marymount University in Arlington, says doctors' offices have to become more tech savvy before such services can be effective: "I think that what they are doing is a step in the right direction, but I think those systems are far from perfected. The physicians' offices have to know what they want out of the systems. My dream is to see the health care system be like an ATM card where everything you need is on one card and in one place, but we are not there yet."