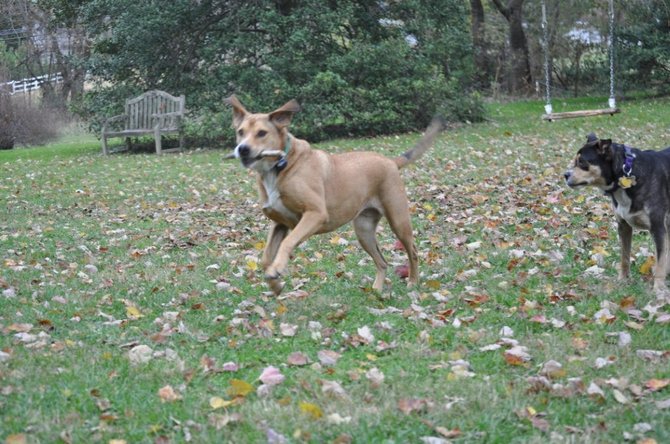 Nov. 8 dawned cold when, in the wee hours of the morning, the movie crew for a new feature film descended on the Conway's 180-year old Potomac residence. By 7 a.m., the secluded tree-lined driveway of the family's River Road farmhouse was bursting with vehicles as technicians unloaded thick cable wires, sound production machines, lighting, staging materials and directors chairs. Inside a growing number of film, sound and make-up specialists, many sporting neat Scottish-plaid tams and argyle wool sweaters, gathered quietly within the cozy kitchen, huddled over steaming cups of coffee and tea.
It was clear the Brits had arrived.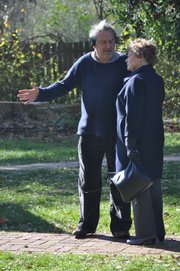 The Conway residence had been selected as one of the American locations for a new feature film being made called "Philomena." The mostly British production is being directed by Stephen Frears ("Dangerous Liaisons," "High Fidelity," "The Queen") and stars Dame Judi Dench as Philomena and comedian Steve Coogan ("24 Hour Party People," "A Cock & Bull Story," "What Maisie Knew") as Martin Sixmith, the BBC correspondent and author of "The Lost Child of Philomena Lee," on which the movie is based. The narrative is the true story of one mother's 50-year search for her lost son. The bittersweet comedy takes place in London, Ireland and ultimately America, where the extraordinary story of Philomena's son is finally revealed. A portion of the American story takes place in an old American farmhouse. Lucky for Potomac, the Conway family had just such a spot.
No feature film can be made without the requisite deluge of equipment. By 8 a.m. the considerable crew had erected camera equipment and slates, light stands and reflectors and various multi-wired sound devices. Workers hurried by pushing video carts while technicians in over-sized headphones manipulated audio mixers. Seemingly endless miles of cables and extension cords were laid. People spoke in hushed voices into cell phones or headsets while others clustered around cameras and LED light panels. As technicians mounted a large fabric backdrop against the rear of the house, gigantic light booms and reflectors shone brilliant light on the stark white surface.
Momentum was broken only by shouts from the production manager of '"Silence on the set!" and "Rolling! Rolling!" Suddenly the set fell quiet and immobile, as the entire company held its breath, while in the family's living room a scene was filmed.
Meanwhile in the adjacent parlor, crew members busily rearranged furniture and applied touch-ups to paint for a scene within the farmhouse featuring the Scottish actress Sara Stewart, dressed in a woolen snowflake-print sweater and '50-style updo. Make-up crews applied final touches to her face and hair as staging crews moved plants and accessories.
When lunch was called promptly at noon (union rules) the company scattered quickly across the Conway's field to neighboring Saints Peter & Paul Antiochian Orthodox Church, where a lunch of penne pasta, chicken, Caesar salad and sautéed shrimp was served. Five long rows of cafeteria-style tables quickly overflowed with family, friends, crew members and cast, while outside a gourmet food truck dispensed piping-hot specialty coffees and tea. The atmosphere was buzzing and congenial with smiles all around. The friendly and approachable German-born actor Peter Hermann ("30 Rock") joined everyone for lunch, as well as Stewart, and the Irish actor Sean Mahon, in a loden green sweater. Mahon stars in the role of Philomena's son, Michael Hess, and Hermann plays the role of his lover. Conversation was open and friendly and all three expressed admiration for the very eclectic character of the Conway's home that reminded them so much of places they knew back home.
Back at the shoot, two large plank tables, with extension cords running back to the house, provided a groaning board of pastries, and snacks, plus two large coffee urns and assorted teas for the crew. Multiple white plastic buckets of sand were placed around the property for the inevitable cigarettes.
Between takes, Diana Conway was fortunate to spend some time conversing with Dame Dench. She and the actress discussed everything from the history of the farmhouse to Dench's initial interest in making the film, which "spoke to her." During a break in the filming of a car scene, Dench told Conway that when she first walked into the house she felt like it was "the right house" and that she would not change a thing. She revealed that she had only felt that way once before and that was about another house in England.
Dench also had warm praise for Father George Rados of the Saints Peter & Paul Antiochian Orthodox Church. Proclaiming him to be a "warm and wonderful" man, she was very enthusiastic about his being included in the film footage.
At the end of the day, Potomac provided two other new stars in the form of Mocha and Athena, the Conway's pair of rescue dogs. Look for them soon in a theater near you.