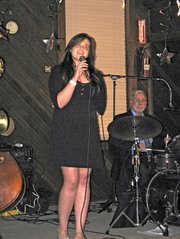 Langley High School junior Emily Nesbitt became the first "Colvin Run Canary" on Saturday, Nov. 3. Holding the dancers spellbound with her romantic interpretation of the 1940s favorite, "A Nightingale Sang in Berkeley Square," Nesbitt was the first featured singer in the Colvin Run Community Hall's new youth outreach program. 
Director Alane Dashner explains, "A 'canary' is the old-fashioned word for a woman who lent vocals to the jazz bands and big bands in the last century." Colvin Run's new "Canary" program offers talented young soloists the opportunity to perform both a capella and with a live band and ballroom dancers.
Interested high school-aged soloists (male and female) should email adashner@colvinrun.org for more details. A video of Nesbitt's performance can be found at www.colvinrun.org and at www.youtube.com/yOObYtR41Pg.