On Sunday, Dec. 2, McLean residents will welcome in the holidays as more than 50 entries proceed down Old Chain Bridge Road for the 5th annual WinterFest parade. This year's Grand Marshal is Virginia Foley, who has contributed outstanding volunteer service to the community. The stage will be set in the center curb cut of Langley Shopping Center, with Peggy Fox from WUSA Channel 9 again calling the parade. Parade entries will begin at Fleetwood Road and proceed down Old Chain Bridge Road to Elm Street. Old Chain Bridge Road will be closed to traffic from 2:45 to 6:15 p.m. on the day of the parade.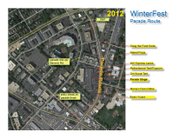 Pre-parade entertainment begins at 3:15 p.m. and will be provided by Bob Rosenbaum, the Springhill Elementary School chorus, singer Chelsea Lee, the Franklin Sherman chorus and the Langley High School dance team. New to the parade this year will be food vendors along the route including Naked Pizza, Doug the Food Dude, Mama's Donut Bites and French fries from Bistro Vivant. Cardinal Bank will be giving away popcorn and bottled water; Giant Foods and McLean Pharmacy will donate warm apple cider and hot coffee in the refreshment tent. Girl Scout Troop 2325 will be selling holiday tree ornaments across the street from the parade stage.
Also new this year in the parking lot of Langley Shopping Center will be an information tent about the 495 Express Lanes. The Express Lanes team will be available to provide information and answer questions about the 495 Express Lanes. Parade attendees will be able to pick up an E-ZPass or E-ZPass Flex from the 495 Express Lanes tent that they will register and activate once they're back home.
The parade steps off at 4 p.m. on Sunday, Dec. 2. Follow updates of McLean WinterFest on Facebook: http://www.facebook.com/#!/mclean.winterfestand and go to www.mcleanwinterfest.org for more parade information.