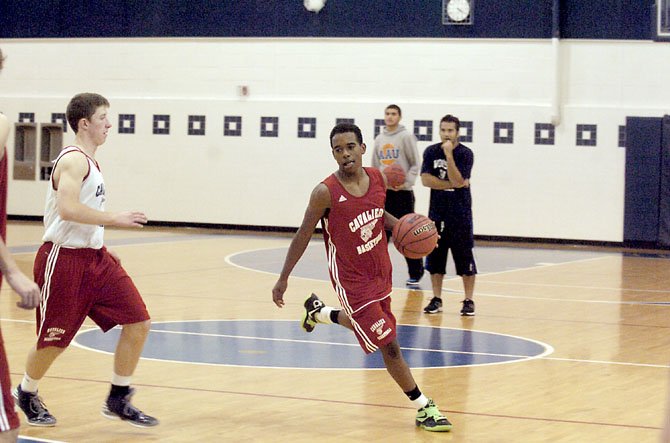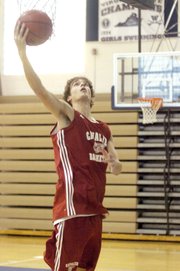 Fairfax — The Woodson boys' basketball team breezed through Patriot District opponents during the 2011-12 regular season, posting a 13-1 mark en route to the top seed in the district tournament.
From that point, however, things no longer ran smoothly for the Cavaliers. With starting guard Michael Hansler sidelined with an ankle injury and team chemistry faltering, Woodson lost to T.C. Williams, 49-48, in the district semifinals and fell to Fairfax, 54-51, in overtime during the opening round of the Northern Region tournament. Just like that, the Cavaliers, who went 20-3 during the regular season, were done.
"Our chemistry wasn't as good as it should have been last year," sophomore point guard Eric Bowles said. "… It wasn't anything the coaches did. Players, they were separated and stuff."
Nine months later, Woodson returns six of its top 10 scorers for the 2012-13 campaign. Led by 6-foot-6 sharpshooter Tommy Stepka and Bowles, the Cavaliers have their sights set on assuring regular-season victories translate to postseason success.
"Anytime you return a lot of experience from a team that had success last season, goals or expectations are high," Woodson head coach Doug Craig said. "… The goal is to kind of take that next step and play deep into the regional tournament."
STEPKA, a senior, was Woodson's leading scorer last season at 12.7 points per contest and shot better than 40 percent from 3-point range. Craig said he would like to see Stepka improve at the defensive end and become a better all-around player.
"Last year, I think he kind of snuck up on people," Craig said. "I don't think people realized until we played 15 or 18 games how good he was. … I don't think he'll sneak up [on teams this season]."
"The goal is to kind of take that next step and play deep into the regional tournament."

--- Woodson boys' basketball coach Doug Craig
Stepka said shooting should again be a strength for Woodson. How does a team that shoots a lot from the perimeter avoid struggling?
"You've just got to be focused and have confidence," Stepka said. "… Just stay confident."
Bowles (5-11) started at point guard as a freshman last season, averaging 6.8 points and five assists per game. Craig said he wants Bowles to improve his game at each end of the floor and take on more of a leadership role.
"I think we have a very experienced point guard even though he's only a sophomore," Craig said. "He started 25 games and had an outstanding year for us [last season]."
Bowles said he feels the same now as he did when he was a freshman and any nerves he experienced last season weren't the product of being a ninth-grader on varsity.
"I'm expected to do better than what I did last year. I shouldn't get worse," he said. "I'm just going to come out and play my game. You always get nervous when you're about to play your first game. [It wasn't] really about being a freshman and coming in. That first game is the nervous one and then once you play that, everything's fine after that."
Hansler, a 6-foot-2 senior, enters his third season on the varsity.
"He has the athletic ability," Craig said, "to be a real dominating player."
Seniors Peter Murray (6-4) and Alex Boock (6-4), and junior Andy Stynchula (6-4) also return for Woodson. Craig said Boock will miss four-to-six weeks after having surgery on his right pinky finger.
WOODSON'S RETURNING ATHLETES will have to overcome the loss of third-leading scorer Brandon Stepka (graduation) and second-leading scorer AJ Carr, a 6-foot-6 forward who transferred to Saint James School in Hagerstown, Md.
"I'm hoping a strength this year will be our experience," Craig said, "[and] the fact we played in a lot of big games last year."
Woodson will scrimmage at Paul VI at 4 p.m. on Saturday, Nov. 24 and will open the regular season at home against Robinson on Nov. 30.