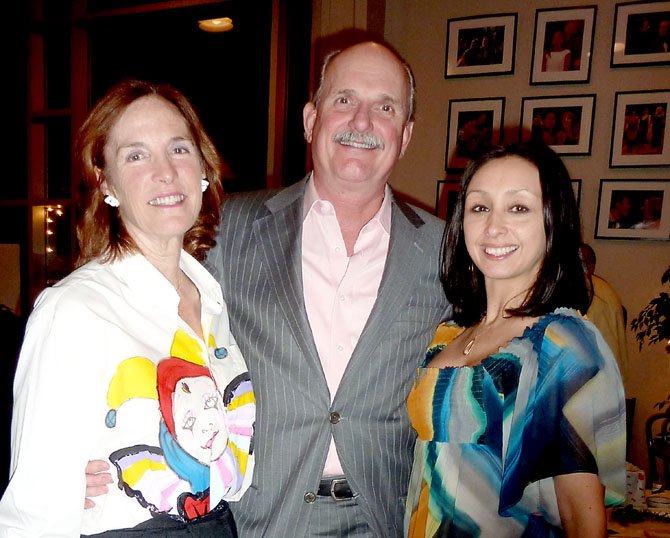 Alexandria — Oh come, all ye faithful fans of musical theater. For the third year running, MetroStage is staging the wickedly funny "A Broadway Christmas Carol," an irreverent musical take on the classic novel by Charles Dickens.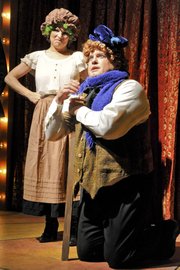 "We're so glad MetroStage brought this Christmas show back," said Becky Mahood, who attended the Nov. 18 performance with her husband Adron Krekeler. "I missed it last year and it is truly one of the funniest shows I have ever seen. The Broadway songs added a tremendous amount of humor."
A parody of the oft-told Dickens tale, the shameless Broadway spoof follows Ebenezer Scrooge as he is visited by the Ghosts of Christmas Past, Present and Future. Through the inventive work of creator Kathy Feininger, Scrooge is shown the error of his miserly ways through the songs of Rodgers and Hammerstein, Andrew Lloyd Webber and Stephen Sondheim.
Feininger uses Broadway's finest to lampoon the holiday classic, cleverly creating lyrics for more than 30 musical numbers. A talented cast of three takes on the multitude of characters with various backgrounds and personalities.
Reprising the central role of Scrooge is Helen Hayes award-winner Michael Sharp, who also acts as director and choreographer. A versatile performer, Sharp is better than ever as he brings his strong vocals and expert comedic timing to the vaudevillian musical numbers.
"I have a great time performing this role," Sharp said. "I have fun when I am out there and if you don't have a good time on stage, the audience won't have a good time."
New to this year's cast is Russell Sunday as The Man Who Isn't Scrooge. Sunday tackles the roles of Bob Cratchit, Scrooge's nephew Fred, the Ghost of Christmas Past and even Tiny Tim with uproarious aplomb.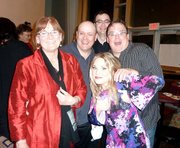 Tracey Stephens is back as The Woman Who Isn't Scrooge, playing the ghost of Jacob Marley, the Ghost of Christmas Present, Mrs. Cratchit, Scrooge's fiancé and the woman seeking holiday donations for the poor.
The exceptionally gifted Sunday and Stephens tackle the demanding character and split-second costume changes with astonishing ease while Sharp brings tenderness and vulnerability to the villainous Scrooge. All three have voices that soar throughout the challenging score of Broadway melodies.
Central to the acting performances is the on-stage musical accompaniment by musical director Jacob Kidder, who dons a Phantom of the Opera mask to serve as the Ghost of Christmas Future.
"I can't believe the imagination that goes into making Broadway songs fit into the Dickens theme. You really have to see it to believe it." — Audience member Susan Kellom
With dozens of inside jokes aimed at theater buffs, part of the fun of "A Broadway Christmas Carol" is recognizing the songs Feininger has transformed for the show.
"I can't believe the imagination that goes into making Broadway songs fit into the Dickens theme," said audience member Susan Kellom. "It makes you laugh so hard, you really have to see it to believe it."
There is no better way to kick off the holiday season than with "A Broadway Christmas Carol." The inside Broadway references are clever enough for the theatre cognoscenti but thoroughly entertaining for anyone looking for a lively alternative to traditional holiday entertainment.
"A Broadway Christmas Carol" is playing through Dec. 23 at MetroStage, 1201 N. Royal St. For tickets or more information, call 703-548-9044 or visit www.metrostage.org.