Born and raised in the Washington D.C. area, John Eaton is a life-long music enthusiast who has been following his passion for over 40 years. He can be described as a pianist, educator, producer and music translator. On Saturday, Nov. 24, he took on the form of musician performing the music of George Gershwin and Harold Arlen at The Barns at Wolf Trap Performance Center, as a presentation of the CD series he has been producing on great American song writers.
Eaton proved to be a musician at heart from a young age. Although he did not start to formally study music until he was 24 years old, he began playing the piano at age 6 and expressed talent as he grew older. "I just started to play," said Eaton. "I had no thought of doing it professionally."
As a young adult, Eaton earned a bachelor's degree in English from Yale University and a master's degree from Georgetown University. Only after serving two terms in the U.S. Army did Eaton decide to give a career as a musician a try.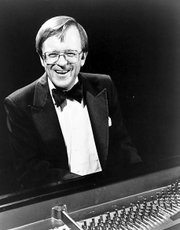 "After two years of trying, I was hooked," Eaton said. "I was doing some programs with Smithsonian Institution and nightly performances at lounges. It turned out to be a very good fit."
His first performance took place at the Bayou Club in Georgetown in 1958 where he continued to play primarily jazz for many years. In 1978, Eaton teamed up with Smithsonian Institution where he lectured and performed for the next 25 years through various programs. "It gave me the opportunity to do performances and travel to performance arts centers in other cities," Eaton said.
While Eaton is a solo artist, he has had the opportunity to perform with artists like Clark Terry, Benny Carter and many others over the course of his career. "I was very fortunate," said Eaton. "It was more of an instinct, a calling, than a conscious decision."
Eaton's first performance at The Barns through the Wolf Trap Foundation for the Performing Arts was in 1988. Twenty-five years later, he continues at Wolf Trap as a performer and educator. Eaton teaches a course during the fall at Wolf Trap while continuing to perform three times a year at The Barnes. As one of the leading interpreters of American popular music, he has produced a series of CDs on great American songwriters, including Duke Ellington, Bob Dylan, The Beatles, Cole Porter and many others.
As a nationally-recognized professional pianist, educator and interpreter, Eaton has proven to be an important contribution to the performing arts community year after year.
"It's not just about playing; it's the connection with the audience," Eaton said. "It's the connection that is the most critical thing—it gives it all meaning. You feel a kind of magic, it's wonderful."
For more information on future performances and other services, visit www.wolftrap.org.