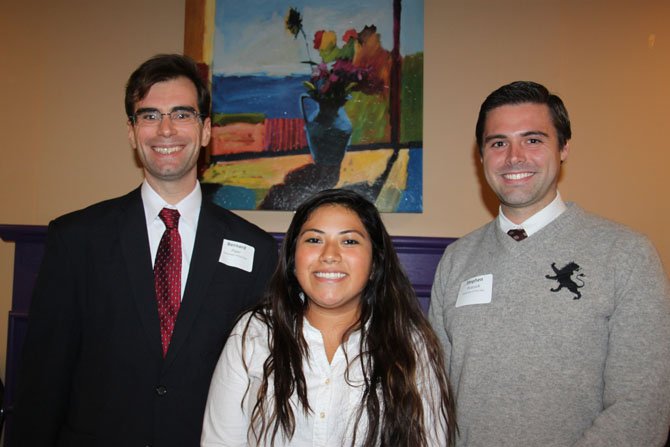 Arlington — "I enjoy volunteering for AHC Inc.," said Bernard Piper, who received one of its Volunteer of the Year awards. "It is an integral part of my life. Even though this may appear cliché or contrived, volunteerism makes me whole as a human being."
Piper was one of the three volunteers who were recognized by AHC Inc., a non-profit developer of affordable rental housing, at the organization's annual meeting last month. The awards recognized volunteers in each of the organization's three educational programs: the After-School program for elementary students, the Teen Tutoring program for teenagers and the Summer Camp that helps students prevent learning loss over the summer.
"This is the first year that we've done it," said Jennifer Endo, director of Resident Services at AHC Inc. "We have wonderful volunteers for many years. It just warms my heart to see people give up their time, and really make a big difference for young people they are working with. Each of them brings so much to the students. They set examples for children of what it is to be a caring person. Children and teens can learn so much from them. I'm grateful that we live in a community where so many people are willing to give generously."
AHC Inc. began offering onsite resident services back in 1993. It provides educational programs that encourage academic excellence and personal growth in a nurturing and stable environment.
These programs are available at its six locations in Arlington.
Piper, who works for the federal government, was honored as the After-School Program Volunteer of the Year. He has helped elementary students in the daily After-School program at the Gates of Ballston for three years. He began helping children with their homework, then found that some children were struggling with math. So Piper decided to stay an extra half an hour each week to help improve their math skills. 
"I worked with AHC's onsite coordinators to introduce a math games component once a week," he said. "We would play different games to help the children become excited about math in different ways. Games included Math Wars where we played with oversized playing cards, or Math Races where different teams would progress around a track based on their proficiency of math problems. We also played a game called Chain Reaction that motivated the children to think about the interrelationship of numbers."
Piper said he was "overwhelmed, surprised, and extremely flattered" when he received the award. "This is an honor that touched me more deeply than other past awards that I was fortunate to receive."
Maria Garcia, the Summer Camp Volunteer of the Year, was the youngest receiving the awards. She lives in one of AHC's apartment communities, and started volunteering with the Summer Camp in 2009. This year she took on a leadership role with other teen volunteers for the first time, modeling for them what they need to help with, when to assist staff and how to build strong relationships with children. 
"I've been volunteering since I was in 6th grade," said Garcia, 17, a junior at Washington Lee High School. "Every summer, I help children with their homework, and I play with them. It's a great experience. It will help me later when I go to college or get a job. I really enjoy it."
Another volunteer was Stephen Peacock, who was honored as the Teen Tutoring Program Volunteer of the Year. He worked closely with a student who needed special academic support and guidance. Peacock was patient, and with his strong support, the student was able to improve his grade from an average of D+ to B.  
"I recommend everyone should consider some type of volunteer activity, whether it is with children, adults, animals, or other cause," added Piper. "I believe volunteerism is an easy way to be part of something larger than yourself, which in turn allows you to grow. We all have different interests. I like education because it is an asset that not only sustains but also grows. I like the idea of sharing with others the value, and hopefully, the love of learning. This is why tutoring is so important to me."