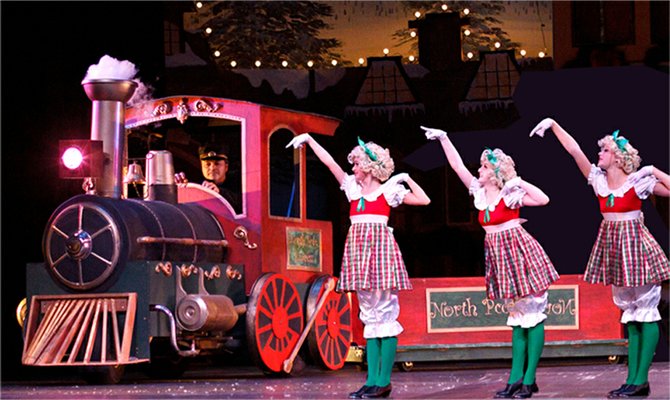 A great way to kick off the holiday season is by seeing Encore Theatrical Arts Project's new show, "All I Want for Christmas." This song-and-dance extravaganza aims to delight audiences of all ages.
Show times are Dec. 8 and 15 at 1, 4 and 8 p.m.; Dec. 9 and 16 at 1 and 4 p.m.; and Dec. 14 at 8 p.m. at NOVA's Annandale campus at 8333 Little River Turnpike. Tickets range from $17-$30 at www.encore-tap.org/. Or call 703-222-5511.
"The sets are huge and glorious, the costumes are colorful and there's a lot of acting, plus both old and new songs," said the director and choreographer, Raynor van der Merwe. "We have everything from dancing reindeers and elves to sophisticated Rockette-style numbers—one done with lighted wreaths."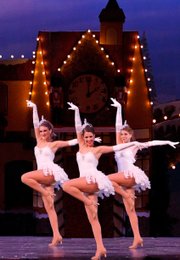 The 31 dancers have been training and rehearsing 18 hours a week in preparation, and van der Merwe says they're "enthusiastic, talented and giving performers." Rounding out the cast are acting veterans Tina and Dan Delafield who portray the head elves, Margaret and Marv.
"The girls have worked incredibly hard and have been a joy to work with," said van der Merwe. "And the upbeat numbers will have the audience dancing in their seats."
THE SETS WILL SHOW New York's Rockefeller Center and the North Pole. Designed and painted by Tabitha Dees, they're 50 feet wide and 20 feet high and she put in 18-hour days for six weeks to complete them. But she says the long hours and hard work are all worthwhile.
"They have lights, real working windows and doors, and there's even snow," said Dees. "One of my favorite parts is when the curtain goes up and the audience gives a collective gasp. For a moment, they're transported to another place."
"That's part of the magic of theater," added van der Merwe. "For a little while, you're all on the same journey together."
Centreville's Logan Floyd plays Mistletoe the elf. "She starts off as a good elf, but makes the mistake of opening a letter meant for Santa—which she's not supposed to do," explained Floyd. "Because of it, she's infected with the Gimme-Gimme Flu and becomes selfish." She then passes it on to the other elves and they have to find an antidote.
As Mistletoe, Floyd likes transforming from a good to a bad elf. "Everyone else is such a good character, so it's fun getting to explore a different type of character," she said.
With Encore since age 2 is Fairfax's Grace Cryblskey, a sixth-grader at Oak View Elementary. In the show, she acts and dances in six numbers. "I play a little girl talking with her friends about Santa," she said. "She thinks Christmas is only about getting presents. I also play an elf named Jinkxie. At first, she's a regular elf and then she turns evil, and it's fun playing both characters."
Cryblskey's favorite number is "Winter Wonderland" because "it's about how Christmas is a winter wonderland and it'll snow while we're dancing." She said the audience will enjoy the whole show because "the script is well-written, very funny and entertaining." She loves dancing because "it's a way to express myself and you get to be onstage, share your talents with others and make them happy."
FAIRFAX RESIDENT Christina Mastracchio, 14, is a 10-year member of Encore. "When I'm onstage, it's the most amazing feeling," she said. "I love performing and seeing people's reactions when I do something cool."
She especially likes the song, "Dolly," because "we get on a train and the sound effects are really good, and the tap dancing is very crisp." Overall, she said, "The audience will like the show because the dancing is professional, the singing is amazing and so is the acting—and everything just comes together."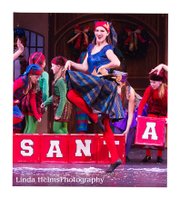 Teen Audra Avery, who's homeschooled, joined Encore at age 6. She said van der Merwe taught her "how to show the audience with your expression how much you love to dance—which I do." Playing an elf named Twinkle, when the story starts, she's in charge of getting things ready for Christmas. But she's eventually infected with the flu, as well, which makes her want to keep all the presents for herself.
"I usually play the nice elf," she said. "But Twinkle's character changes, so it's like playing two parts. And I love the costume—it's a short blue, pixie-type dress; all the costumes in this show are really amazing. My favorite number is 'Reindeer;' we wear brown and have antlers, and the song has a lot of leaps and is really high-energy. I think the audience will also like our new, winter set for the North Pole and the storyline."
Alia Artieda of Centreville loves dancing because, she explains, "I can express myself about everything." She also likes the "Cool Yule" number because it's done with a smaller group and "it's bluesy, which is more my style."
Chantilly High sophomore Renee Griese says it's "an amazing feeling being up on stage and having people clap afterward. It gives you a really good sense of accomplishment." Calling the show "kid-friendly," she said, "When the curtain goes up and you hear all the little kids, they think everything they see onstage is real and are totally entertained by it."
"All the girls in this production want it to be great as much as I do," added van der Merwe. "It's a full cast focused on a common goal, and that's what makes it special."