Police Collect Toys for Ill Children
For the 26th year in a row, the Fairfax County Police Department motorcycle squad is working collaboratively with the Fairfax County Sheriff's Office, Virginia State Police, Fairfax City Police, Falls Church Sheriff's Office, and the Town of Vienna Police to collect and distribute toys for sick children, as well as local charities such as the Ronald McDonald House.
Please consider donating a new, unwrapped toy, game or book at any Fairfax County Police station before Monday, Dec. 10. Donations are also being accepted at the Fairfax County Police Headquarters at 4100 Chain Bridge Road, Fairfax.
The motorcycle officers' "Santa's Ride" collection will take place on Dec. 11; distribution of gifts will take place at Inova Fairfax Hospital on Dec. 12 and Georgetown Hospital on Dec. 13.
For more information, contact the Public Information Office, 703-246-2253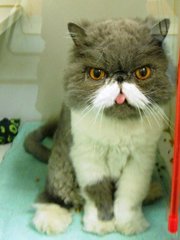 Adopt a Shelter Animal
The Fairfax County Animal Shelter is offering a free spay or neuter for the first 100 cats, kittens, dogs or puppies adopted from the shelter through Dec. 31. The special offer is part of the shelter's annual Home for the Holidays adoption celebration to help homeless animals leave the shelter for stable, new homes in time for the holidays.
The shelter has cats and dogs available for adoption, in addition to rabbits, small mammals, reptiles and birds. To view animals available for adoption, visit http://www.fairfaxcounty.gov/police/animalservices/ and click on adoption. The shelter is at 4500 West Ox Road in Fairfax. Regular adoption hours are Tuesday-Friday, noon-6:30 p.m.; and Saturday, 10 a.m.-4:30 p.m. For more information, call 703-830-1100.
Cold War Competition to Benefit Veterans
On Saturday and Sunday, Dec. 1-2, CrossFit Liberation in Lorton, will present The Cold War II Competition—its second annual CrossFit competition for the Mid-Atlantic Region. The Cold War competition comprises both team and individual competitor divisions, featuring more than 200 CrossFit athletes from across the Mid-Atlantic region competing in the two-day challenge. Event participants include many active duty personnel and reservists, as well as military veterans and wounded warriors. The CrossFit program was developed to enhance an individual's physical competency in order to prepare them for dealing with life's challenges. A portion of the Cold War II competition proceeds will go to Hidden Wounds, a non-profit organization whose mission is to provide interim and emergency counseling services to ensure the psychological health and well-being for combat veterans and their families, as well as the National Alliance on Mental Illness (NAMI) to support bipolar research.
Saturday, Dec. 1, team registration begins at 5:15 a.m. The first heat of athletes goes out at 7 a.m.; Sunday, Dec. 2, at 5 p.m. at South Run Recreation Center, Reservation Drive in Springfield. www.thecoldwar-midatlantic.com.
Christmas Tree Fire Safety
Fairfax County Fire and Rescue Department crews distributed Christmas tree safety tags to holiday tree lot vendors during the week before Thanksgiving. These tags provide valuable, fire-safety tips for residents when purchasing a tree.
Residents should keep the tree base immersed in water; not allow smoking near the tree; use only lights approved by Underwriters Laboratories (U.L.); use flame-retardant decorations and paper; inspect lights for frayed or cracked wiring, broken plugs and defective sockets; unplug lights at night and when leaving the home; and remove the tree soon after the holidays, before the needles dry out.