Alexandria — Washington Capitals alumni Peter Bondra and Nelson Burton and mascot Slapshot visited Alexandria Country Day School in Alexandria on Wednesday, Nov. 7, for the fifth Capitals Hockey School assembly of the 2012-13 school year.
Hockey School is a free program, designed to be instructional and interactive, with the goal of exposing students to floor hockey while teaching proper technique.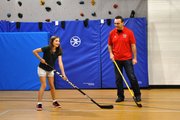 Bondra is a former Capitals right wing who played in 961 games with the Capitals from 1990-2004. Burton, a former Capitals left wing, played with the team from 1977-1979.
Following the clinic the Capitals donated a set of street hockey equipment to the school. All students received an autographed alumni card, a hockey 101 booklet and a Capitals squishy puck. Alexandria Country Day School also received a Capitals Hockey School banner to display in their school gymnasium.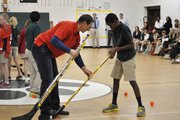 The 2012-13 season marks the sixth consecutive year the Capitals have conducted their Hockey School program. The Capitals have hosted more than 70 clinics and reached more than 10,000 students in the past four years.