Arlington — Igniting Artisphere's 2nd Anniversary Weekend with a Brazilian beat, New York City's quartet Forró In The Dark brings their blend of Brazilian forró, funk and fun to Artisphere on Saturday, Oct. 6. The doors open at 8 p.m. with the sounds of the Maracuyeah DJ Collective, followed at 9 p.m. by D.C.'s own tribute band to the classic Brazilian 1960s tropicalia movement, Alma Tropicália, with a second DJ set before Forró In The Dark takes the stage at 10:30 p.m. Tickets are $20 for the event, which takes place in Artisphere's Ballroom.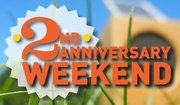 The event is among the highlights of Artisphere's 2nd Anniversary weekend, which culminates with a Free Family Day Open House — a day of fun and interactive art for the entire family —on Sunday, Oct. 7 from 12:30-4:30 p.m., sponsored by the Rosslyn Business Improvement District.
Free Family Day Open House includes:
THE SUITCASE STORY: EMMA JASTER (begins at 2 p.m.)
An adventure story told by Emma Jaster through clown, puppetry, acrobatics, maps and music, the tale follows a mysterious suitcase which transports our impish heroine through countless adventures to pluck at your heartstrings and tickle your funny bone.
MURAL PAINTING: ALBUS CAVUS
Using a range of artistic materials, artists from Albus Cavus Art Collective will work with visitors throughout the day to create a one-of-a-kind mural painting to commemorate Artisphere's 2nd Anniversary Celebration.
Details
Artisphere is located at 1101 Wilson Boulevard in Arlington, two blocks from the Rosslyn Metro (blue/orange lines) and within walking distance of Georgetown. Admission to Artisphere and all its visual art galleries is free; there is a cost for ticketed events. Artisphere offers patrons free parking evenings after 5 p.m. and all day on weekends. Visit www.artisphere.co...
Monday-Tuesday: Closed
Wednesday-Friday: 4-11 p.m.
Saturday: Noon-11 p.m.
Sunday: Noon-5 p.m.
CIRCUS OF WONDERS: DAVID LONDON AND FRIENDS
Join Magician David London and his friends Bubble Fairy Jennifer Stephens, Stilt Walker Paco Fish and Seabuck Thornberry as they perform Wandering Wonders live!
THEATRICAL WORKSHOP: WSC AVANT BARD
Teaching actors from WSC Avant Bard will conduct hands-on and engaging theatrical workshops that will highlight improvisation, movement and stage makeup.
Also part of the Anniversary celebration, is SUN BOXES, a solar powered sound installation in public spaces throughout Rosslyn by artist Craig Colorusso, comprised of 20 speakers, each equipped with solar panels. When heard together, Sun Boxes transform outdoor spaces into a walk-through sonic landscape. For scheduled locations of Sun Boxes, as well as details on all 2nd Anniversary activities, visit www.artisphere.com.