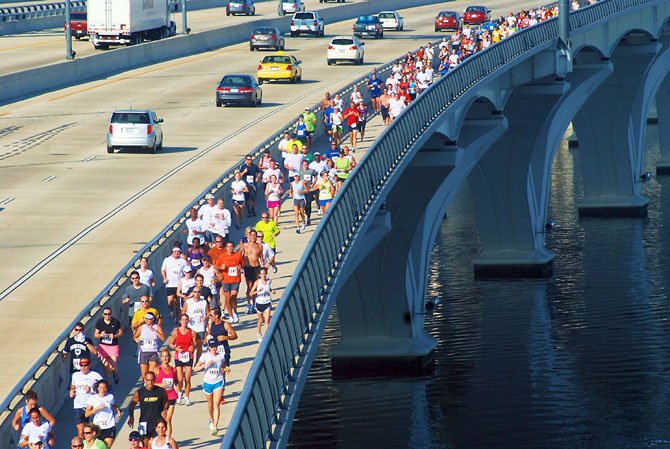 Alexandria — The 3rd annual Woodrow Wilson Bridge Half Marathon will be running from Mount Vernon Estates to National Harbor on the George Washington Memorial Parkway on the morning of Sunday, Oct. 7.
Northbound lanes of the George Washington Memorial Parkway from Belle Haven Boulevard to Church Street (Alexandria City line) will be closed from 7 a.m. until 11 a.m. Traffic, however, will be able to travel northbound from Belle Haven Boulevard as well as southbound from Alexandria to Belle Haven Boulevard at a reduced speed in single lanes on the southbound route from 7 to 11 a.m.
Residents of Hunting Point Towers and Porto Vecchio will be able to proceed in and out of their respective parking lots during the race, as instructed by City of Alexandria police, when there is a break between runners.
In National Harbor, the Express Lanes of National Harbor Boulevard will be closed to vehicular traffic from 7:30 a.m. to 11 a.m. All lanes of the Woodrow Wilson Bridge will remain open. The Woodrow Wilson Bridge Pedestrian Path will be closed from 6:30 a.m. to 10:30 a.m.
No other road closures are anticipated.
For more information, contact Race Director Steve Nearman at 703-587-4321 or email Steve@wilsonbridgehalf.com.