Arlington — Two generations of Cajun music legends unite when the new group Joel Savoy, Jesse Lége & Cajun Country Revival heat up the ballroom at Artisphere on Wednesday, Oct. 17. Together they've been exploring the connections between Cajun roots music and honky-tonk, drawing from Jesse Lége's nearly inexhaustible supply of old songs, Joel Savoy's endless ability to improvise, and Caleb Klauder's dry, dusty voice. Tickets are $15. The event, in partnership with Dancing by the Bayou, takes place in Artisphere's Ballroom.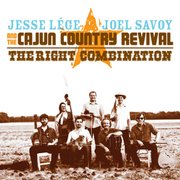 Jesse Lége, Joel Savoy & The Cajun Country Revival dig into the deep roots of Cajun music, looking not only for beautiful, rare songs, but also for a commonality between the rural dancehalls of Louisiana and the honky-tonks of East Texas. Elder accordionist and vocalist Jesse Lége was raised in a home with no electricity, speaking Cajun French as his first language. Fiddler Joel Savoy grew up in the home of Marc and Ann Savoy, literally at the feet of the grandmasters of the genre. Rounding out this powerhouse Cajun group is The Caleb Klauder Country Band from Portland, Ore., bringing their hard-driving, honky-tonk and vintage acoustic country roots. The mixture is an explosive celebration of a uniquely American genre.
Formed in 2010, the Cajun Country Revival came together during Caleb Klauder's Northwest CD release tour to celebrate his album, Western Country. Savoy and Lége happened to be in the Northwest at the time, and Caleb invited them to sit in on his tour. The group immediately clicked. Lége and Savoy's Cajun dancehall music blended well with the roots country and honky-tonk of Klauder's band, and a brilliant in-studio performance at Seattle's KEXP radio station cemented the group. Klauder and Lége found a rough, rustic bond in their vocals, trading off between Cajun French and English, while Sammy Lind and Savoy slipped right into the interwoven fiddle lines of the old Cajun twin-fiddling style.
Details
Joel Savoy, Jesse Lége & Cajun Country Revival
Wednesday, Oct. 17 at 8 p.m. $15.
Artisphere is located at 1101 Wilson Boulevard, two blocks from the Rosslyn Metro (blue/orange) and within walking distance of Georgetown. Admission to Artisphere and all its visual art galleries is free; there is a cost for ticketed events. Artisphere offers patrons free parking evenings after 5 p.m. and all day on weekends. Visit www.artisphere.com or call 703-875-1100.
There's a rich history of Cajun singers translating popular country songs, and many Cajun songs are based on this. It's a river that runs both ways, uniting East Texas and Southwest Louisiana, and now the Pacific Northwest, where Caleb and friends call Portland home. In our globally-connected world, Joel Savoy, Jesse Lége & Cajun Country Revival is a band that knows where the music comes from, but can't wait to find out where it's heading.