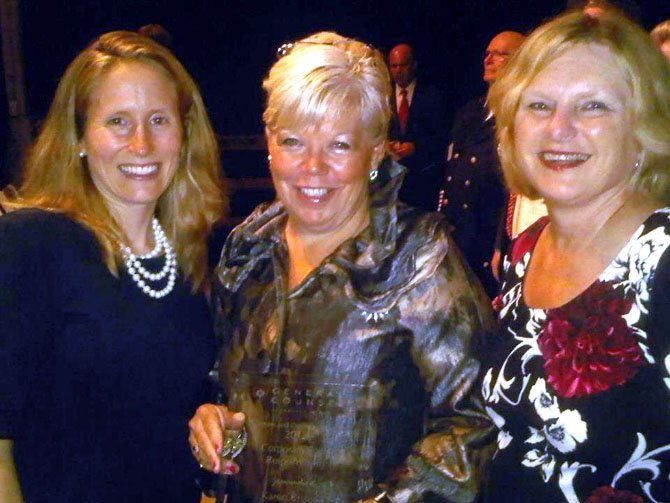 Karen Briscoe and Lizzy Conroy with the HBC Realty Group of Keller Williams Realty received the award for Corporate Social Responsibility from the Greater McLean Chamber of Commerce on Tuesday, Oct. 2. The award was presented at the Third annual Suits & Sneakers event at the Claude Moore Colonial Farm by Chairman of the Board Merritt J. Green and President Marcia Twomey. The award recognized HBC Realty Group's local fundraising endeavors via the company's charity arm—Community Charity Champions.
The Huckaby Briscoe Conroy Realty Group launched Community Charity Champions in 2012 as a venue to fundraise for local nonprofits. Karen Briscoe and Lizzy Conroy were searching for a means to support charities in the community. The event is held at Pulcinella Italian Host in McLean. A portion of monies spent on food and drink by the diners is contributed to the charity of the month by the sponsors of Community Charity Champions.
"We are honored that the Greater McLean Chamber of Commerce recognized us with the 2012 Corporate Social Responsibility award due to our efforts to support local charities through the Community Charity Champions arm of HBC Realty Group," said Briscoe.
Sponsors of Community Charity Champions include: Karen Briscoe and Lizzy Conroy of HBC Realty Group, Moe Jebali with Pulcinella Italian Host, Marcus Simon with EKKO Title, Frank Vorndran with MorganStanley SmithBarney and Richard Moroscak with EagleBank.
The inaugural event was in April of 2012 and the money raised benefited Lift Me Up! in Great Falls, a therapeutic horseback riding program dedicated to children and adults with a variety of disabilities. The following events raised funds for SHARE, Inc.; McLean Little League, Inc.; McLean Project for the Arts; and McLean Youth Football.
Total funds raised to date by HBC Community Charity Champions is over $6,500. Future events are scheduled for October 15, 2012 to raise funds for Children's Science Museum and November 5, 2012 for Clemyjontri Park. Other charities are currently being considered, call 703-734-0192 for more information.