Potomac — Drawing 101
Students will explore basic drawing techniques. Media includes pencil,charcoal and conte crayon. By the end of the class, students will have the ability to make accurate drawings, understand form and structure, and use value to illustrate light, form and texture. Wednesdays, Oct. 17 – Dec. 12, noon – 2 p.m. Tuition: $160.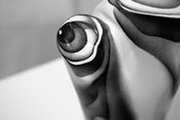 Intermediate-Advanced Figure Sculpture
In this class, students will work on a portrait bust and a figure in plasticine. There will be an emphasis placed on mass and anatomy on a 3D model to demonstrate basic technique for capturing likeness. Tuesdays, Oct. 23 – Dec. 18, 7 – 9 p.m. Tuition: $270, includes plasticine and use of tools.
School's Out: Harvest Craft Day I
School is closed for the day, but VisArts is open. A full day of harvest crafts, including pumpkin carving, a spooky fused glass plate, Mummy keychain, Halloween lantern and more. We provide all of the materials -- you provide lunch and the child. Friday, Oct. 19, 8:30 a.m. – 3 p.m. Ages 7-12. Tuition: $85.
VisArts is located at 155 Gibbs Street, Rockville. visit www.visartsatrockville.org or call 301-315-8200.