Vienna Family Brings Library to Park
This summer, a "Little Free Library" was added to Meadow Lane Park, 400 Courthouse Road SW. This is not a traditional library, but is a book exchange where users are encouraged to take a book while leaving one in its place, no library card required.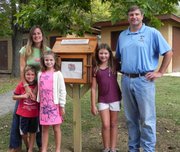 The library at Meadow Lane Park was the brain child of Vienna residents Robyn and Chris Oskuie and their children Lauren, Katherine and Jackson. "We were looking for an opportunity to get our kids involved in the community and at the same time, nourish our love for reading," said Robyn Oskuie. Robyn and Chris partnered with Vienna Parks and Recreation Department to install the library along with a new park bench. Users are invited to donate books to the library collection.
The "Little Free Library" is a Wisconsin-based initiative to promote literacy and the love of reading by building free book exchanges worldwide. For more information on this program or to learn how you can participate, visit www.littlefreelibrary.org.
High Tech Workforce to Be Discussed
Fairfax Committee of 100 will host "The Challenge of Preparing a High Tech Workforce for an Uncertain Economy," with Dr. Robert Templin, president of Northern Virginia Community College, as a speaker on Thursday, Oct. 18, at the Amphora Restaurant, 377 Maple Ave. W, Vienna. Pre-meeting festivities are from 7-7:30 p.m., preceding the dinner and program from 7:30-9:30 p.m.
NOVA is one of the country's most innovative and adaptive community college systems offering 160 associate degree and certificate programs to more than 75,000 students from 150 countries.
Dinner Cost: Members, $38; Non-Members, $40.
Seating can only be guaranteed with advanced reservations. RSVP today by calling: 703-385-3753 or by sending an email to: wwhanks@cox.net
Vienna Halloween Parade Oct. 24
The 66th annual Vienna Halloween Parade will step off at 7 p.m. on Wednesday, Oct. 24, on Maple Avenue from Berry Street to Center Street.
This year's parade theme is "Celebrating Holidays Around the World" and the grand marshal is Santa Claus. Special guests this year will be the Washington Redskins Marching Band, the National's Racing Presidents and the Capital's Slapshot.
Children are invited to walk in the parade in their Halloween costumes. No registration is required; meet at 6:30 p.m. in the parking lot of Virginia Commerce Bank, 374 Maple Ave., E (same place as last year). Children must be accompanied by an adult.
Road Closures: On Wednesday, Oct. 24, Maple Avenue—Route 123 in the Town of Vienna—between East Street and Lawyers Road will be closed beginning at 6:50 p.m. for approximately two hours for the annual Vienna Halloween Parade. Several side streets off Maple Avenue will be closed and no on-street parking will be allowed beginning at approximately 4:45 p.m. to allow parade participants to line up. All streets will reopen at the conclusion of the parade around 9 p.m.
A detailed map of the parade route and street closures is available at www.viennava.gov/index.aspx?nid=951. For more information, call Vienna Parks and Recreation at 703)-255-6360 or visit www.viennava.gov.
Vienna Participates in 'Hail the Trail'
"Hail the Trail," a Dominion Trail Mix program event that aims to beautify and positively impact the W&OD trail by being the largest cleanup effort in the trail's history, will be held on Saturday, Oct. 20, from 9 to 11 a.m. Hail the Trail will take place at ten locations along the trail, each labeled as a "station" along the old railroad.
The Town of Vienna is participating in Hail the Trail by hosting a station at the Vienna Community Center, 120 Cherry Street SE, titled "Park Station." Volunteers are needed at the Park Station to help remove trash and invasive plants along the trail.
Each Hail the Trail participant will receive a free Trail Mix t-shirt. Refreshments will be available at the Park Station.
To register for Hail the Trail's Park Station site, visit www.dominiontrailmix.com/events/hail-the-trail.htm and register as an individual. For more information on the Dominion Trail Mix, visit www.dominiontrailmix.com.