Fairfax County police released a sketch this week of a suspect they say may be responsible for at least five fondling attacks in Springfield over the past month.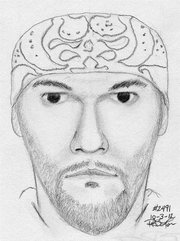 The most recent incident occurred on Tuesday, Oct. 2. A 15-year-old girl reported that she was grabbed from behind and fondled around 7:15 p.m. in the 6200 block of Hibbling Avenue in Springfield, police said. After she was grabbed, she pulled away from the suspect and fled.
On Thursday, Oct. 4, police said a 40-year-old woman reported that she was walking along Hibbling Avenue near Exmore Street on Sept. 19 when she heard someone behind her. As she turned to see why he didn't pass, he grabbed and groped her as she struggled free. The suspect then fled, police said.
Police said they are investigating whether these assaults are linked to similar incidents that took place in September.
According to police, a 17-year-old girl was grabbed from behind and fondled around 9 a.m. in the 5900 block of Erving Street on Sept. 27. On Sept. 19, a 16-year-old girl was walking on a path in the 6700 block of Metropolitan Center Drive around 2:45 p.m. when she was grabbed and fondled, police said. On Sept. 7, a 26-year-old woman reported that she was grabbed from behind and fondled while walking along the 7200 block of Monticello Boulevard, police said.
Victims described the attacker as a Hispanic male in his 30s, about 5 feet 8 inches tall with a goatee or neatly-trimmed beard and wearing a plain, red baseball cap. None of the victims required medical attention.
Police said they believe there may be additional victims and incidents that have gone unreported and urge women to contact police if they have encountered this suspect.
Anyone with information is asked to call Crime Solvers by phone at 1-866-411-TIPS/8477, e-mail at www.fairfaxcrimesolvers.org or text "TIP187" plus your message to CRIMES/274637 or call Fairfax County Police at 703-691-2131.