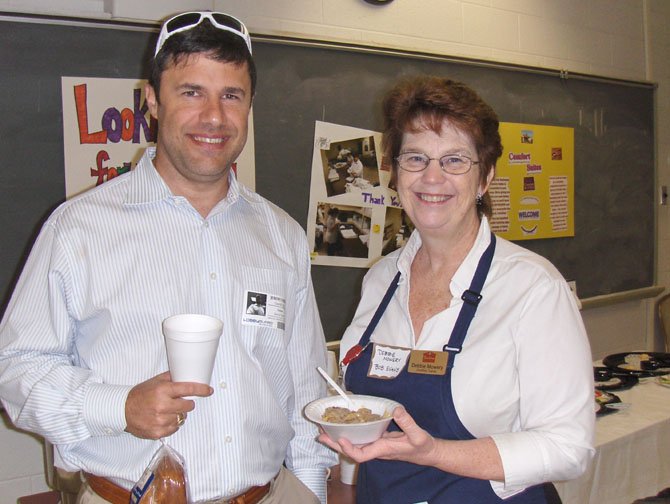 Chantilly — Some 30 local businesses support Chantilly High's Special-Education Career Classes. So on Sept. 26, the school held a breakfast in its lecture hall to honor them, and the students and teachers joined in, too.
The students take Work Awareness and Transition (WAT), Education for Employment (EFE) and Landscape classes at Chantilly to help prepare them for the workplace, and the businesses give them firsthand experience.
"There are about 60 students total in all three programs," said Jackie Gaston, a school employment and transition representative. "The WAT class helps them with career exploration, learning work behaviors and vocational skills. And part of all three programs is a community work experience."
Securis, a Chantilly firm that recycles obsolete electronics and does secure shredding, has been the school's business partner about seven years. President Jeremy Farber said the students participate in some of the recycling process and attend weekly seminars.
"The learn resumé writing, job interviewing, introductions, networking, professional demeanor, taking criticism and work ethics," said Securis representative Andrew Portare. "They also learn about the recycling business, itself, and why it's important to the environment."
Farber said the partnership is "cool because the kids get an opportunity to get practical experience, and our employees get to be involved in giving back to the community. The teachers come and supervise and help us with these special-needs kids, and it's been nice working with them, too. These teachers are servants to society and the community."
He said Securis views it the same way, considering how best it can serve the teachers and the school. "And we miss the students when they leave for the summer," said Farber. "They do a really good job because they like and enjoy it. They treat it like a job and get a lot out of it; and we treat these kids like they're not special or different — we treat them like normal people."
Bob Evans restaurant has been a Chantilly High business partner for 19 years, and Sue Collins, a school employment and transition representative, couldn't be happier. She also credits Bob Evans host-and-server trainer Debbie Mowery with making it happen.
"One year, when we didn't have any supporters for our program, Debbie suggested having the businesses support us," said Collins. "She said, 'We'll provide the biscuits and gravy.'"
Mowery said Bob Evans loves the partnership. "Every year we get a student and watch them blossom like a flower," she said. "For example, last year's student was very shy, but I'd hug him. And today, he came here to the breakfast just to give me a hug before he went to class — and it made my day."
By working in the community, said Mowery, students with special needs gain confidence and real-life skills, plus experience in various work environments. "Depending on their skill level and abilities, we start them in the kitchen measuring and weighing ingredients to ready them for cooking," she said. "They move on to making and baking the biscuits. As they got more comfortable, one or two moved on to the front of the restaurant, bussing tables, greeting guests or sweeping floors."
"They may have a handicap, but they're still people." — Kecia Morris, sales director, Comfort Suites
Mowery said it's all about helping these students "feel more confident in who they are and helping them to grow. We also love it. Our primary kitchen-prep woman, Cece, takes them under her wing and teaches them what they need to know. And instead of being paid, they get school credit — that's how the program works."
Then when the students graduate, said Mowery, they have business references, "so it really sets them up for success. But we just do a tiny piece; the students get later jobs at many different places."
Pleased with Chantilly's recognition breakfast, she said, "I love that they do this at the beginning of the year because it's such a nice way to kick off the program. The participating businesses see each other, and the students feel more comfortable, as well, seeing that lots of other students are participating, too. Most of all, I am so proud of Chantilly High for doing this program."
Comfort Suites has been a business partner three or four years, and Kecia Morris, director of sales, was at the breakfast with student Felix Diaz, who works there currently. "The kids help the housekeeping director fold linens, tidy sinks, replenish toilet paper and wipe tables in the breakfast area — day-to-day things that will help them in life," said Morris. "The guests tell us the kids are doing a great job, and they are. They tell us they're mindful and follow instructions."
Three or four students work at Comfort Suites at a time, supervised by their teachers, at least once a month. "It's about giving back to the community and giving the kids the experience of day-to-day work at our hotel," said Morris. "And we think it's great to see them out and functioning because they may have a handicap, but they're still people, too."
Chantilly juniors Roxie Rahnama and Cameron Adair are in the WAT and EFE programs, respectively. "We're learning about different skills needed in the workplace and trying to figure out where we'd be best suited for a career," said Adair.
"For some [students], it's the highlight of their day." — Michele Bechtel, WAT teacher
Students in Rahnama's class, she said, are "learning about jobs and how to act professionally. My class helps me get out to work in the community and tells me what to do if, for example, my bus is late."
"I really like it because they find different jobs for me to do," said Adair. "For example, last year in the school library, I got to wash off tables and organize books in alphabetical order. And what I really like is that they teach us the job skills before we go to work."
Last year, Rahnama worked at the Women's Club, a Chantilly gym. "I helped watch the kids, folded towels and helped people check in," she said. "It was a lot of fun because I love little kids."
Also at the breakfast was WAT teacher Michele Bechtel. "I think it's incredibly important to have kids work in the business community and try out a job before they leave high school," she said. "It gives them an opportunity to see what they like and don't like, network with the business community and build resumés."
Bechtel said the teachers also work with the students on their interpersonal and social skills — "which is critical in their being able to get and keep a job. Because they may have the job skills, but need to know what to do if they make a mistake at work. They also need to know how to ask for help — little nuances we take for granted. Then when they talk to other employers, they've had experience with a recognizable business."
She said the students love the program. "They may not have had a lot of success academically, so this gives them success in the work world," said Bechtel. "They realize skills they didn't know they had, through trying different jobs. And for some, it's the highlight of their day, because they're shining."
Bechtel said the business partners breakfast was for the students to meet the businesses the school works with and "to thank these businesses for participating in the program." Added Collins: "We are so proud of our students, grateful to our teachers and indebted to our business partners who provide opportunities for our students."