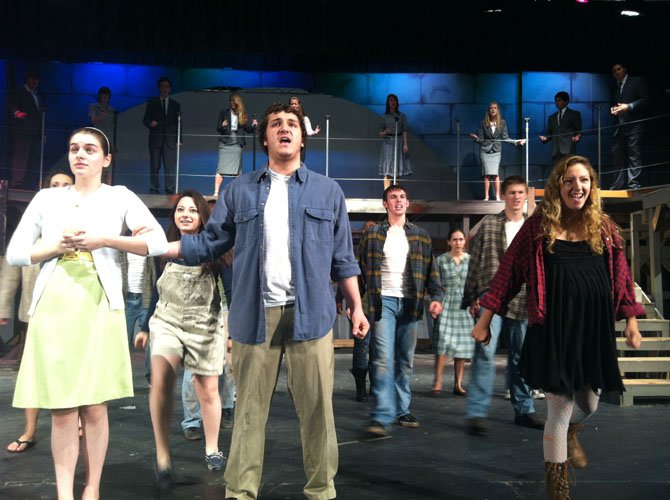 Chantilly — The fight for the freedom to pee for free — that's the basic premise behind Chantilly High's upcoming musical comedy, "Urinetown." It'll be presented Wednesday-Saturday, Oct. 17-20, at 7 p.m. each night; tickets are $10 at the door or online at www.chantillyhsdrama.com.
It features a cast of 30 and crew of 20, and the actors have rehearsed six days a week since school began.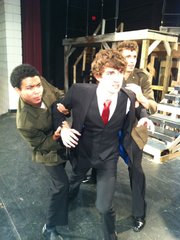 "We've got a really amazing caliber of actors this year, and some are choral students, too, so it's a great combination of both departments," Director Shannon Khatcheressian said. "We have some really great, powerhouse singers, and combining them with the highly entertaining music makes for a really spectacular show."
"The story takes place in a dystopian future where there's not enough water for everyone," said senior John Downey, one of the leads. "So a bad CEO and his Urine Good Company make it so people can only use public restrooms they have to pay to use. They can't have private ones."
Furthermore, he said, "If anyone's caught trying to pee in the woods or get around paying, they get sent to the dreaded Urinetown. It's a mystical place that no one knows anything about because everyone who's gone there has never come back."
Downey plays Bobby Strong, an assistant custodian at a restroom called Public Amenity No. 9. "He's confident, but naïve and not the brightest crayon in the box," said Downey. "But he has a very big heart. He sees that what's happening is wrong, so he starts a huge revolution against the company."
He loves his role because "it's fun to play a blissfully unaware character. The writing is great and very funny, and my character has clever lines. And sometimes, he says things completely out of left field."
Downey's favorite song is "Act One Finale" because it "involves the entire cast and there are a whole lot of different things going on. The revolution is just starting and the police are coming after us — and when it all comes together, it's really beautiful." As for the show, he said, "The audience will like how ridiculous the story is. It's all played seriously but, when you think about it, it's actually insane and really funny."
Junior Amanda Mason portrays Hope Cladwell, the 21-year-old daughter of Caldwell B. Cladwell, the high-class and wealthy CEO. "She just graduated from The Most Expensive University in the World — that's its name," said Mason. "She's extremely naïve, but has a good heart and always sees the best in people. But because of it, she sometimes overlooks the bad things in life and doesn't realize how cruel people can be."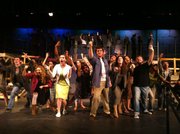 In the show, Hope falls in love with Bobby, which creates even more tension between the company and the rebels. But she's torn because "she believes in her love for Bobby and is on the side of freedom for the people," said Mason. "But she doesn't want to give up her father and her lifestyle for the rebellion. At the same time, she doesn't realize how bad the situation's become for the average person because she has money and her father's always sheltered her."
Mason calls her part "incredibly fun because Hope's quirky, like me, and it's fun being this sincere, heartfelt character. I'm usually an alto, but I sing soprano in this show. But I enjoy it because soprano is so much like Hope's optimistic character."
She especially likes the song, "Follow Your Heart," Bobby and Hope's love duet sung when they meet for the first time and are immediately infatuated with each other. "It illustrates an extremely awkward, but also sweet and loving relationship," said Mason. "It's also funny and entertaining."
She said the show as a whole is a conglomeration of what musicals are all about — "all different genres of song and dance. It has the epic finale, Gospel ensemble number, sincere love song, etc., which make it relatable and enjoyable to watch."
Playing Ms. Pennywise is senior Stephanie Feeback. "She runs Amenity No. 9, is very strict and has a lot of authority over all the poor people — and she uses it," said Feeback. "But she has good intentions; she's just enforcing the law. She also has a mysterious past that's eventually revealed and, when it is, it allows other people to like her."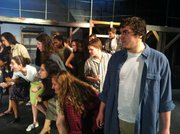 Feeback likes portraying Pennywise because of her two sides and, she added, "Having power is fun. My character's also energetic and passionate about whatever she's doing." Feeback's favorite song is her solo, "Privilege to Pee," because it's so funny.
She also choreographed the entire show. There are at least 10 numbers and she started working on them over the summer. Then she taught the dance steps to the cast. She formerly danced with Encore Theatrical Arts Project and still takes classes there.
"Choreographing is time consuming, and I worked hard to make sure nothing was repetitive and each number was different," said Feeback. "But I loved it; it gave me a chance to choreograph for the first time, and it's all jazz — and that's my favorite style of dance." She said the audience will enjoy the show's high-energy songs and catchy music, adding, "It's not your typical musical."
Director Khatcheressian called Feeback's choreography "an amazing asset. It's a dance-heavy show, and she's exceeded my expectations and done some really outstanding work."
Sophomore Diego Encarnacion plays Officer Lockstock. "He's a controlling and serious policeman, but he does whatever Mr. Cladwell says because Cladwell buys off the police," said Encarnacion. "He's always looking for people doing wrong in the city, and his partner, Officer Barrel, follows his orders. He's also friends with a child called Little Sally, who's one of the rebels."
Encarnacion says he's naturally outgoing in real life, so he likes exploring a new personality and attitude, while keeping a straight face. "This is my first mainstage production, so I'm excited to have one of the leads," he said. "I also narrate the show, and talking to the audience is a different sort of acting, like giving a speech."
His solo is "The Cop Song," and he says the vigorous choreography leaves him breathing heavily at the end. "But I like it because everyone who sees it says they love it," he said. "It's more of a rap than a song, which I think the audience will enjoy."
"This show's unique and the topic is so outrageous, but the playwright captures the audience so well," continued Encarnacion. "They'll enjoy the craziness, and the music is wonderful. The inspiring lyrics really grab you and entice you to listen to more."
Overall, said Khatcheressian, "This show truly has something for everyone. The storyline is absolutely hilarious, the music is engaging and the dance numbers will have everyone wanting to get out of their seats and join the actors onstage."