Discussion, Film on Reston's Public Art
A special program on Reston's public art history and Reston Museum's current exhibition, Reston: The Art of Community, opens with a screening of Rebekah Wingert-Jabi's short documentary film, Fun, Beauty, Fantasy: Reston's Public Art on Thursday, Oct. 25, 7-9 p.m. at the Reston Community Center, 1609 Washington Plaza at Lake Anne.
A panel discussion following the film will focus on the inventory of public art in Reston and the development of the exhibition. Panelists will include Anne Delaney, executive director of the Initiative for Public Art-Reston (IPAR); Lynn Lilienthal, immediate past chair of the Reston Historic Trust; Rebekah Wingert-Jabi, filmmaker; Mary Konsoulis, curator of the exhibition; and Jeanne Krohn, exhibit designer. The interactive panel will engage the audience in a discussion about the role of public art in Reston.
Reston Museum will open at 6 p.m. for exhibit viewing. Admission is free. All are welcome.
South Lakes Teacher Selected as Emerging Leader
Daina S. Lieberman, a teacher at South Lakes High School in Reston, has been recognized as an emerging leader by PDK International, a global association of education professionals.
The PDK Emerging Leader program recognizes top educators under age 40 from around the world for their leadership. A committee made up of PDK's past emerging leaders selected the 22 honorees from a competitive field of applicants, based on their outstanding professional accomplishments.
In addition to being honored at an event in Washington, D.C., honorees also have the opportunity to be published by PDK, apply for grants and participate in PDK initiatives.
Lieberman is a National Board Certified Teacher and has taught high school English in New Jersey and Virginia. She has also served as a Fulbright foreign language teaching assistant in France. In addition, she has coached girls' tennis and currently serves as the historian for her local PDK chapter.
"I have learned that there is always more to learn, that a teacher can always improve through reflection, and that my success as an educator is defined by the accomplishments of my students," she said.
Lieberman is a member of the PDK International Northern Virginia chapter, National Council of Teachers of English, ASCD and National Education Association.
For more information on PDK's 2012-2013 Class of Emerging Leaders, go to www.pdkemergingleaders.org.
UnCommon Sense at the Jo Ann Rose Gallery
The Jo Ann Rose Gallery at RCC Lake Anne will feature UnCommon Sense through Oct. 29. In this annual judged fine art exhibit sponsored by the League of Reston Artists, artists address the questions: "What makes your piece of art unique? Why does it reach out to your heart or grab your eye or inspire you to paint it? What makes it uncommon?" Artists' explanations will be posted along with their works.
The League of Reston Artists (LRA) sponsors exhibits, workshops and programs for artists, as well as a scholarship program for high school students and artists at every stage of their development. LRA welcomes new members and invites the community to its many public exhibits.
Learn more at www.leagueofrestonartists.org.
The Jo Ann Rose Gallery is located in Reston Community Center Lake Anne at 1609-A Washington Plaza in Reston. The facility is open Monday through Saturday from 9 a.m. to 9 p.m. and 9 a.m. to 8 p.m. on Sundays. The Gallery is not open to the public during rental functions and/or some programs.
Photography by Rene Ramos at Hunters Woods
The gallery at RCC Hunters Woods will feature Photography by Rene Ramos through Oct. 31. This exhibit showcases images of simple beauty, including landscapes, Americana, religion, monuments, beach sunsets and vegetables. Also included are a few conceptual projects like Four Seasons, which began as a photo of a single winter tree and resulted in four photographs taken in different seasons that are among the artist's most collected works.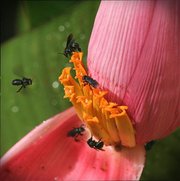 The artist's love of hot peppers inspired Hot and Cool. "Using scissors, I cut out small sunglasses from a black vinyl binder, suited three distinctly-colored hot peppers, and laid them on a bed of tortilla chips," said Ramos. "The resulting image has put a smile on many faces."
Ramos has worked in creative design since the mid-1980s. He began to focus more seriously on photography with the rise of online stock photography agencies and is a contributor to Shutterstock and iStockphoto. He is also involved in youth sports photography and has developed his passion into a weekend sports photo shoot service for Northern Virginia families. Learn more at http://www.ramosdesign.net.
Reston Community Center Hunters Woods is located at 2310 Colts Neck Road in Reston. The facility is open Monday through Saturday from 9 a.m. to 9 p.m. and from 9 a.m. to 8 p.m. on Sundays.