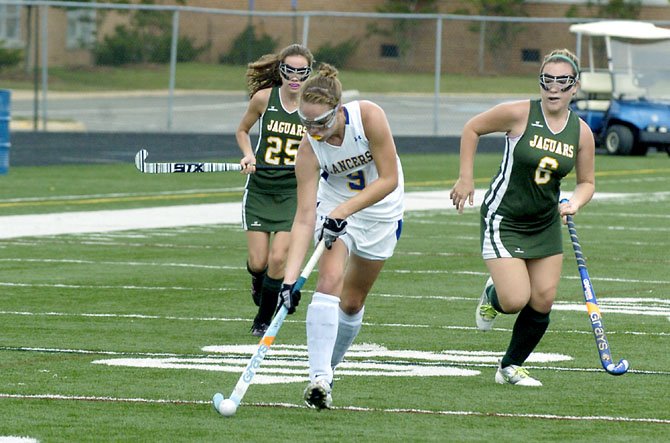 After scoring the first goal of her high school career against Osbourn Park on Aug. 25, Lee senior Jean Garcia celebrated with a blissful dance resembling a youngster pleased with her holiday gift. The Lee field hockey team would lose the contest and finish 0-3-1 during the two-day "Under the Lights" tournament, but that didn't keep the Lancers from enjoying the competition.
After defeating Wakefield, 6-0, in its season opener on Aug. 22, Lee hosted the 2012 "Under the Lights" tournament Aug. 24-25. The Lancers lost to Centreville, 6-0, and South Lakes, 5-1, during first-day action before tying Falls Church, 1-1, and losing to Osbourn Park, 3-1, on the second day.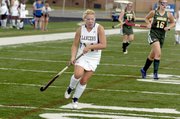 "At Lee, we always joke that we're the little underdog in every sport," third-year Lee head field hockey coach Lindsay Jones said, "and I always try to encourage the girls because … it's anybody's game and a lot of the coaches overlook us and we get out there and they're like, 'Whoa.'"
Lee senior Meghan Cox, a standout soccer athlete, scored a goal against South Lakes and Falls Church during the tournament.
"She doesn't do a lot with field hockey in the off-season," Jones said, "but she's just so talented, she picks it up so well."
Senior captains Sophia Kim and Laura Martin are also key players for the Lancers.
"[Kim] came out her sophomore year, played JV, and she just picked it up," Jones said. "She was such a captain right away. At JV she was a captain, even though she was a beginner she was leading the team, and that's what I needed from her for her senior year and this team. She's positive, she's encouraging, and even [when] she messes up, she stays focused…"
"Laura has obvious stick skills, she's got great speed and she's just another person that controls the game up top—gets us opportunities, gets us those corners."
Lee (1-3-1) will host South County at 7:30 p.m. on Thursday, Aug. 30.