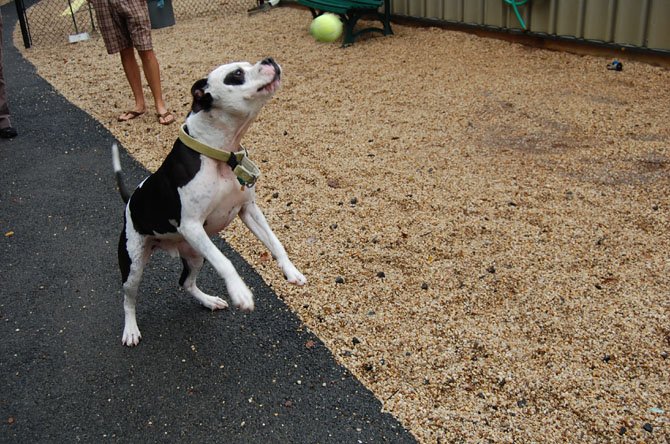 Arlington — What if the villainous Gaston in Disney's Beauty and the Beast found a happier ending?
The Animal Welfare League of Arlington (AWLA) is trying to ensure just that for its resident Gaston, who thankfully only shares his name and good looks with the character from the movie.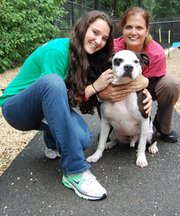 Four-year-old Gaston is a Bulldog, American/Terrier, Pit Bull mix who sports a beautiful black and white coat. Staff describes him as a darling of the shelter and his charm and personality has helped in raising thousands of dollars for the care of the shelter's other residents. Many of the workers and volunteers have just been swept off their feet, including one smitten young lady by the name of Isabelle Schneiderman (who's nickname at home is coincidentally Belle). Belle and her mother, Lisa Schneiderman, have been volunteers for over four years and spend their weekends at the AWLA.
Belle was there when Gaston first came to the AWLA about a year ago and said that in the beginning she had mixed feelings about pit bulls because of their reputation as aggressive dogs. However she added that "Gaston changed that for me. I remember the first time he walked over and sat on my lap, this big muscular dog on my lap. It was quiet humorous. After that we grew a strong bond."
Gaston and Belle often enjoy games of catch in which he will demonstrate his athleticism and energy while speedily running down gravel paths to retrieve treasured tennis balls. While Gaston and Belle have developed a strong friendship, Belle too hopes that Gaston will find a permanent home.
Like other dogs at the AWLA, Gaston participates in behavior classes and he is literally "top dog" with his performance and enthusiasm to please. Interested parties should contact the AWLA directly and/or visit its website www.awla.org.