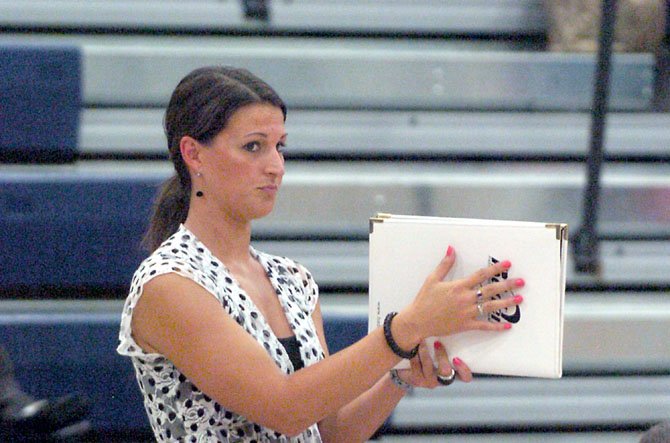 The South County volleyball team proved resilient in its 2012 season opener, battling back from a 2-0 deficit to force a deciding fifth game at Yorktown on Aug. 27. The Stallions had momentum on their side entering game five, but Yorktown assured South County would leave Arlington on the wrong end of a recent trend.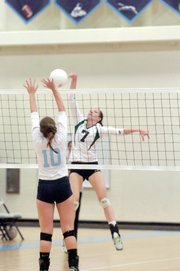 Yorktown defeated South County, 3-2 (25-20, 25-17, 18-25, 20-25, 15-4), with a dominant game-five performance. Monday's match marked the third time in two seasons the Patriots defeated the Stallions in five, including the teams' postseason matchup in the 2011 Northern Region quarterfinals.
After the match, second-year South County head coach Trista Barnhart said she was pleased with the Stallions' effort, but frustrated with the outcome.
"They definitely played with a lot of heart," Barnhart said about the Stallions. "It takes a lot to lose the first two sets and then come back and win the next two. You lose so much momentum in the first two, so it takes a lot of heart. … I told them you should be happy and proud of what you did, but learn from it and don't be satisfied."
Barnhart said the Stallions have been practicing game-five situations, but it was Yorktown that built a commanding lead, scoring the first four points and seven of the first eight en route to a 15-4 victory.
Junior outside hitter Allison Bruder, a second-team all-region selection last season, led South County with 18 kills in the match.
"She had a great game," Barnhart said. "Allison is one of our strongest players. We love her. She's a great all-around player. She's a captain for us this year as a junior and we look to her for a lot of leadership and when we need her to do something, she usually gets that job done."
Senior middle blocker Macey Lutz finished with 15 kills and five blocks.
"She had some outstanding, game-changing plays," Barnhart said.
Yorktown junior Hayley Molnar led all players with 20 kills.
"I told them you should be happy and proud of what you did, but learn from it and don't be satisfied."

--- South County volleyball coach Trista Barnhart
"I'm not liking this routine of losing to Yorktown in five, since it happened twice last year and now this year," Barnhart said, "but you know what, we'll meet them again, we'll be ready and I think we'll get a different result --- I hope we do."
Sophomore outside hitter Cathy Scaniffe had six kills for South County and senior opposite hitter Sara Panneton had five kills and four aces.
The Stallions will travel to face two-time defending Northern Region champion Stone Bridge on Thursday Sept. 6.
"I know that I have put together a great team this year and I have very high expectations of them," Barnhart said. "I don't think right now they know how good they are. I think they will see it in a little bit."