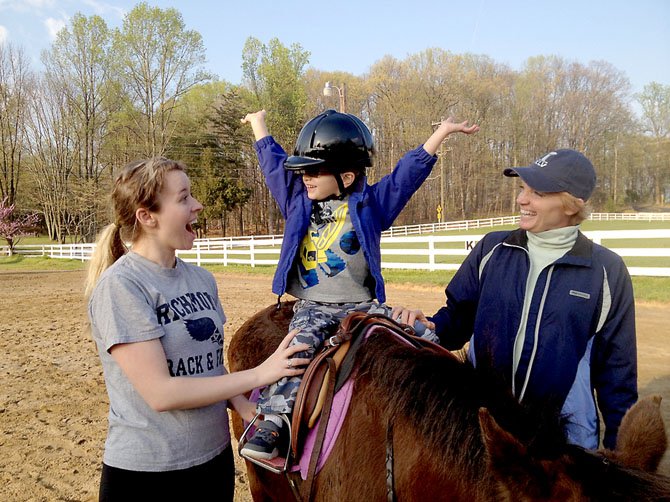 The Northern Virginia Therapeutic Riding Program (NVTRP), based in Clifton, will host its sixth Ride To Thrive Polo Classic on Saturday, Sept. 8, at Chetwood Park in The Plains, Va. Gates open at noon, with the polo game beginning at 3 p.m. featuring Team Chetwood Park/Golden Zebra versus Team Los Tigres.
About Ride to Thrive
All proceeds from the Ride to Thrive Polo Classic benefit The Northern Virginia Therapeutic Riding Program in Clifton. The NVTRP provides equine-assisted activities for children and adults with disabilities, youth-at-risk, military service personnel and their families in an inclusive, community setting. For more information and to purchase tickets, please visit: www.nvtrp.org.
The Ride to Thrive Polo Classic will feature a full-length polo match as well as a variety of activities, including a visit by the Piedmont Driving Club Carriages, a tug-of-war, the Three Fox Vineyards Foxtrot Race reserved for women, Catoctin Creek Distilling Co. Canter Race for men, the traditional divot stomp, and a live performance by The Gingerfunk All-Stars, a band well known for playing a variety of music from Motown, funk, classic and modern rock.
Prior to the start of the polo match, artist Barbara Brown will be available to sign this year's Ride to Thrive Polo Classic poster. This year's silent auction includes week and weekend getaways, exquisite artwork, local vineyard wine tastings and culinary delights at Washington, D.C. and Northern Virginia restaurants.
There will be two therapeutic riding demonstrations, including one by Maj. Max Brewer, a military service equestrian from Northern Virginia Therapeutic Riding Program. Prior to the start of the Ride to Thrive Polo Classic, the "Scots 4 Tots" will perform a Kilted Color Guard. The American Flag flown during the Kilted Color Guard performance is the flag that flew over Afghanistan during Operation Enduring Freedom on Dec. 25, 2011 and brought back by U.S. Air Force Captain Eric W. Hastings.
Clifton's Paradise Springs Winery will be supplying red and white wines and Warrenton's Horse Country Cakes will be providing a variety of cupcakes for guests with a sweet tooth.
Tickets for this benefit are $75 per person (all inclusive); an additional $100 allows you a front-row tailgate space. Children 12 and under are free. Ticket and Sponsorship information are available for online purchase at www.nvtrp.org. One hundred percent of the proceeds benefit NVTRP, a 501(C)(3) nonprofit organization that provides therapeutic riding and hippotherapy to children and adults with disabilities, youth-at-risk and military service personnel through the challenging, physically active sport of horseback riding.
Sponsors for this year's event include the Wounded Warriors Family Support, AmerisourceBergen, Contact Solutions, Flying Colors Polo Team, The Jackson Clinics, Jaleo Restaurant and Ted Britt Ford Lincoln Fisker.