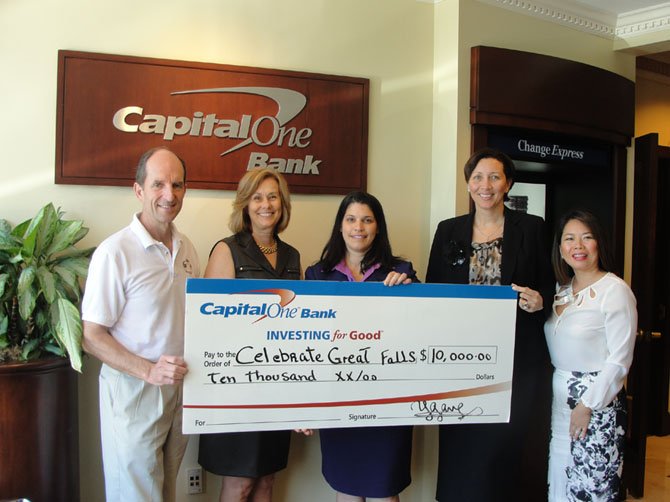 Capital One Bank has become a Preferred Partner of the Celebrate Great Falls Foundation "and we are so grateful for their support," said President Candace Campbell. "Not only does it take a lot of volunteers to put on the fabulous community events families look forward to throughout the year, it takes a lot of money, and Capital One really stepped up to the plate to help."
Celebrate Great Falls (CGF) is a nonprofit foundation that has become the umbrella organization for many of the town's major annual events: Cars & Coffee; Summer Concerts on the Green; Celebrate Great Falls Days which includes the baseball game, golf tournament and festival; July 4th Hometown Celebration; Halloween Spooktacular and the Holiday Festival of Lights in December. CGF also provides information for and about community businesses, schools, nonprofits, sports organizations and other local entities via the website and online calendar. "Our goal is to become the place to turn for information about our town and local events," Campbell said.
"We were delighted to be asked to get involved in the community by supporting this organization and the many wonderful events they help make happen throughout the year," said Yenisel Gamez, the branch manager in Great Falls. "We are still relatively new in town and wanted a way to show our commitment, to get to know residents and to roll up our sleeves and help an organization that gives so much back to Great Falls. It has already been a wonderful experience for us and we look forward to a long and enjoyable relationship with Celebrate Great Falls."
All of the money raised through the Celebrate Great Falls Foundation is used to fund community events and projects and to meet critical needs in the community. For more information or to post events on the online calendar, please visit www.CelebrateGreatFalls.org.