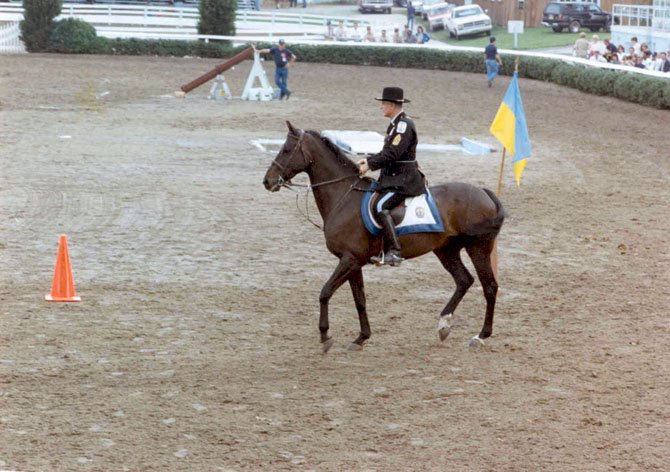 Potomac — Potomac equestrians, and those interested in the work of mounted police forces should plan to attend the 2012 North American Police Equestrian Championships on Sept. 29 and 30 at the Montgomery County Fairgrounds in Gaithersburg.
This two-day competition is designed to demonstrate the working partnership, trust and communication that officers develop with their horses in the interest of public safety. Admission and parking are free.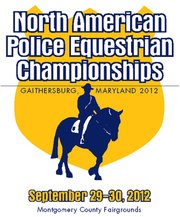 The competition will feature the Uniform, Equitation, and Obstacle divisions. More than 150 officers from across the U.S. and Canada will be coming to Montgomery County to compete. In addition to the competition, the NAPEC "Top Police Horse" will be honored with a Breyer model horse created in their likeness. The event is being jointly hosted by the Maryland National Capital Park Police (Montgomery and Prince George's divisions) and the U.S. Park Police.
"We are hoping that the community will get actively involved," said Ellie Trueman, chair of the Development Committee for the 2012 NAPEC event and a Poolesville resident. "We have created a 'Host a Horse Hero' program which allows individuals to help sponsor a horse for $30. We are struggling to get enough funding to provide a quality event and would like local corporate and individual sponsor support." Those who decide to "Host a Horse Hero" will have the opportunity to personally feed their sponsored horse carrots, apples and horse treats. They can also come to cheer on the officer and horse that they are paired with — and may be invited into the ring to award the ribbon if their horse wins. To "Host a Horse Hero, go to www.napecinc.org
Samantha Rubin of Potomac will be volunteering at the event. She has been riding since she was 3 years old and now competes in local equestrian events. The Churchill senior describes how she will be helping at the event: "As a volunteer I will give baskets of carrots and apples to the horses on Saturday as a part of the 'Host a Horse Hero' program. On Sunday, I will be passing out brochures and giving horseshoes to all the children coming to the event. I will also be working with other volunteers to help with the mini-seminars on horses and riding and with the pony rides. We are expecting many families, horse-lovers and people who want to see a very entertaining event and those wishing to show their support for the mounted police units. Anyone wishing to learn about horses and riding will find it a really great event too."
Sunday is "Families and Horses Day." In addition to the Obstacle competition, the day will feature mini-seminars and opportunities for riding and becoming involved with horses in our area. Children will have a chance to ride ponies, and enter coloring contests. A horse exerciser will be available to give adults the feel of riding without actually getting on a live horse. A horse dentist will demonstrate caring for a horse's teeth, and a farrier will demonstrate how to put shoes on a horse.
"The planning for NAPEC 2012 has been ongoing for nearly a year," said Sergeant Rick Pelicano of the Maryland National Capital Park Police and chair of the 2012 NAPEC Organizing Committee. "There are many details, including the divisions, program, horse accommodations and course design and all have to be balanced with the budget which is dictated by contributions and sponsorship from the community. This economy has really dealt a blow to the event," said Pelicano. "We are hoping the community will come forward with support. And we certainly hope the community will come out to enjoy the two days of competition complete with activities that will interest and entertain all ages."