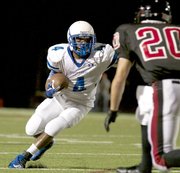 The South Lakes football team defeated rival Herndon, 21-7, on Sept. 7 at Herndon High School. It was the Seahawks' second win against the Hornets in the last three seasons.
For South Lakes, the victory came one week after the Seahawks opened the 2012 season with a lopsided defeat against Westfield, 51-13, on Aug. 30. South Lakes' home opener is Friday, Sept. 14 against Stone Bridge at 7:30 p.m.
For Herndon, the loss dropped the Hornets to 0-2, including a 42-14 defeat against Langley on Aug. 30. Herndon will travel to face Yorktown at 7:30 p.m. on Friday, Sept. 14.