Centreville — It's not a done deal, yet. But if the traffic volume at the intersection of Braddock Road and Willow Springs School Road warrants it, a traffic signal will someday be installed there. And it can't come soon enough for Willow Springs Elementary parents and schoolbus drivers.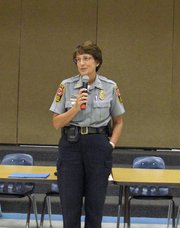 In the meanwhile, the Wink-o-matic flashing lights on Braddock – telling drivers nearing that intersection to slow from 45 to 25 mph – have been reinstated after having been removed during the summer.
The lights' removal both stunned and upset community residents, who contacted their local delegate, Tim Hugo (R-40). He then organized a meeting at the school, inviting VDOT, FCPS, FCDOT, Fairfax County police, other elected officials and Willow Springs parents.
Attendees included state Sen. Dave Marsden (D-37th), Supervisor Pat Herrity (R-Springfield) and Springfield District School Board representative Elizabeth Schultz, as well as Capt. Susan Culin, commander of the Police Department's Traffic Division.
At the outset of the meeting, last Thursday, Sept. 6, in the school cafeteria, Willow Springs PTA President Jean Naka explained the problem: "In the last two years, we've added 250 more students from communities east of the school. But turning left any time of day on Braddock is not pretty, so traffic backs up."
In fact, she said, since it's too dangerous for buses to attempt to turn left on Braddock, they haven't been allowed to do so for years. So the school counts on the Wink-o-matic lights in both directions to slow traffic a bit so parents and buses full of children can actually enter and exit the school.

"We started getting calls a couple weeks ago," Hugo told the 50 or so parents in the audience. "I know you believe the blinking lights are important – and they're now back in – but it's an interim solution."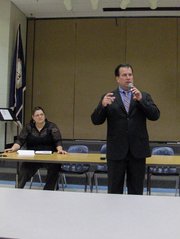 Schultz said that, besides being a School Board member, she was a Willow Springs parent, a year ago. "So I have a unique understanding, as a mom, of what it's like to get in and out of this school," she said. "I think this problem won't go away until we get the right solution."
Herrity said his office first got the school's request for a traffic light in 2010 and worked with VDOT to get a traffic study done. But at that time, the traffic level didn't warrant a signal there.
"Since then, the new students have come here and there's a potential for the removal of the Wink-o-matic lights," he said. "So my office will work hard to get to the long-term answer."
Marsden said he appreciated VDOT'S willingness to find a solution. "It's good to have the professionals here to guide us through this," he said. "The bottom line is safety for our kids."
Then Culin explained that, from a police perspective, "We consider this a mobility and movement problem." Noting that the school has just one entrance, she said that, when the blinking light slows approaching traffic on Braddock, "It causes the traffic to bunch up. So traffic coming from the school doesn't have a window of opportunity to pull out onto [Braddock]."
She also told the parents why that light was removed this summer. According to a county policy and an agreement between the county, FCPS and VDOT, such lights are actually intended for students crossing the roadway near a school. But, said Culin, "You don't have walkers crossing there."
Furthermore, she said, "There's a [traffic] code saying Wink-o-matics have to be within 600 feet of a school property line, and yours is 1,400 feet away. So having a Wink-o-matic there is not enforceable. I had Commonwealth's Attorney Ray Morrogh and the county attorney both look at the code, and they concurred."
Besides that, said Culin, "Some individuals will ignore [that light] and not slow down. So that's why we're looking at a better way of getting people in and out of here quicker – the school system's Department of Transportation has agreed to pay for a stoplight."
Schultz noted that, all along, FCPS has said it would fund a traffic signal there. Meanwhile, added Hugo, "We do think the Wink-o-matic is a safety improvement, so that's why it's back in for now. We're in the midst of a new traffic study now to check the traffic warrants, and we'll do whatever's possible to expedite a traffic light."
Lauren Mollerup, VDOT's transportation and land-use director for Fairfax County, was also at the meeting with VDOT traffic engineer Randy Dittberner. School parent Jenny Rudo told them that VDOT should also study the traffic volumes in the nearby neighborhoods.
"Traffic is so bad that parents like me park in the neighborhoods and walk to the school to get their children," said Rudo. Agreeing, a father said he uses a different path than she does and wanted VDOT to know about it.
Schultz suggested the parents keep records of how often and at what times they do these things, and also take photos of their routes. Still another dad said that, recently, "Some 55 to 65 cars" went down another neighborhood street to both drop off and pick up their children "because they can't get to the kiss-and-ride. So this street has turned into a de-facto kiss-and-ride." And a mom suggested VDOT talk to bus drivers about how long it takes to get the children home after school and following after-school activities.
Herrity said some relief will also come in another way because FCPS "has agreed to pay for a right-turn lane" so there can be a continuous traffic flow out of the school. And Dittberner said VDOT would support it.
Rudo asked the VDOT representatives for a timeline. "How long does the study take?" she asked. "And when can we expect to see a traffic light?"
"We want to finish the study by mid-October," said Dittberner. "Then we'd turn over the reins to the school system to design the light, decide where to put the pole and integrate the right-turn lane into the project. But generally, from warrants to finish, we can put in a typical traffic signal in nine to 12 months."
"That's why we wanted the Wink-o-matic back in, and that's why I put together this meeting," said Hugo. "You've got Senate and House leadership, a county supervisor, a School Board member, Democrats, Republicans, VDOT and about 50 parents here. You've got all the sled dogs pulling in the right direction."
However, advised Mollerup, "The turn lane has to be designed, too, so you're probably looking at a year – potentially, next summer. It could involve right-of-way acquisition and utility relocation."
Meanwhile, Dittberner said VDOT would set up a video camera from 6 a.m.-6 p.m. at the school entrance for the traffic study. But mom Wendy Everard said it should run until 8 p.m. because of "soccer practice, Wednesday night chess club and other after-school activities." Basically, added another mom, "We have three soccer fields, two baseball fields and one exit."
Hugo said all the parents' comments were helpful because they detailed "the magnitude of the problem." Mollerup then told them that VDOT already put "school" markings on Braddock and will erect yellow "school" signs in both directions.
Rudo asked if a police officer could help the buses leave after school, but Culin replied that, "With budget cuts, there's not the staff to do it."
A parent who lives east of the school, off Pheasant Ridge Road, said her children are on the bus about 40 minutes each way. So she asked the bus routes be examined so drivers could reach her neighborhood and others more directly. "The kids would be on the bus less and home sooner," she said.
Agreeing, PTA treasurer Christine McDonald added, "We have kindergartners sitting on that bus for 45 minutes – and we live two miles away." Herrity said that's one reason FCPS wanted to fund the traffic light, "because of the cost of the buses."
School Principal Liz Rhein then thanked everyone for attending the meeting, saying, "I can sleep better tonight, knowing we're moving forward with this."