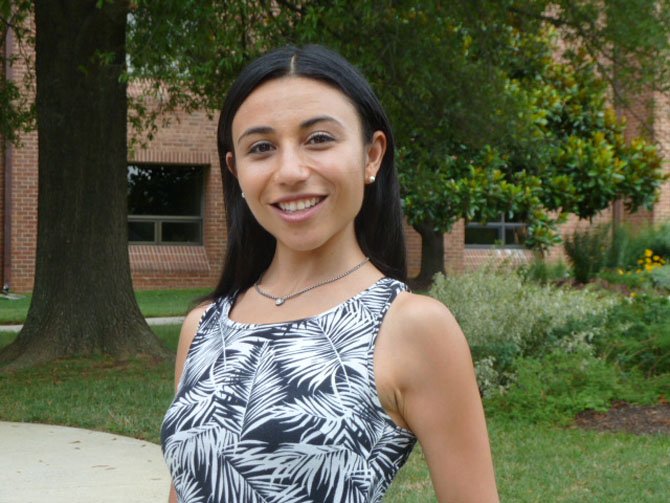 Potomac — Stacey Roshan's AP Calculus and Honors Algebra 2 students don't have to struggle with math homework every night. They never come to school with tales of their frustration and reasons why their assignments weren't completed. They don't even tell their teacher, "The dog ate my homework!"
Roshan, who has taught at Bullis' Upper School since 2007, had observed the anxiety of her students when they could not complete their assignments at home. She also felt frustrated because after delivering her lesson, there was little time for questions, starting the homework or making certain that all her students understood how to solve their math homework problems.
Two years ago she flipped the lectures and the homework. Students now view her lectures at home on their computers through i-tunes or her webpage. Then they come to class to complete their homework, get hands-on help and support, or practice what they have learned. Roshan, a technology whiz, records her lectures using Camtasia Studio Screen-Capture software with editing capabilities. She also lays out the lesson on a power-point that she hands out in conjunction with their assignment. Students use the power-point brochure to take notes and jot down questions. They have the capability to stop and replay any part of the lesson for better understanding. When they come to class the following day, Roshan will answer their questions and help them complete their homework. Many times they work with a peer or in groups, and they always get their questions answered and come away from class understanding their assignments.
"My role has become a facilitator and a coach," said Roshan. "The flipped learning model allows me to be a nurturing teacher and helps students to become very independent and innovative in their learning. They learn to think logically at a higher level.
"When the students come to class, it is obvious to me right away if they have grasped the concepts or if they are confused and need assistance. I know exactly what is baffling my students by their questions and then I can specifically address the concerns and help students more effectively."
Both students and parents have shared that they appreciate the "flipped classroom model." One student said, "I used to leave my math homework until last because it was so difficult to struggle through. Now, I watch the video first. I know it's a 20-minute video, and I leave 30-40 minutes to go through it and to write down questions. Then I can go to school and get help in class without the frustration of having to spend hours and hours trying to understand it — and maybe never getting it."
Roshan was selected by the National Association of Independent Schools (NAIS) as one of their "Teachers of the Future" for her innovative "flipped classroom" methodology. She was chosen from a pool of nominees from across the United States — teachers who inspire academic excellence in students and who serve as role models and opinion leaders for other educators.
According to the NAIS website www.nais.org, "These teachers effectively weave environmental sustainability, globalism, equity and justice and/or use of technology into their classroom teaching. These are the hallmarks of a high quality education for the 21st Century."
Through the NAIS Teacher of the Future program, these teachers will be given a chance to distinguish themselves as teacher-leaders and to share their work with the broader independent school community. As one of only 20 teachers nationwide chosen for the program, Roshan will lead an online discussion forum designed to share innovative ideas and teaching techniques and she will create a demonstration video to inspire others. Roshan explains why she is thrilled to be a part of the Teachers of the Future: "It's all about sharing great ideas."
Roshan grew up in Rockville and attended Montgomery County Public School's Math and Science Magnet Programs at Takoma Park Middle and Blair High School. After graduation, she earned a BA and MS in economics from NYU and UVA. After working as an economist for a few years, she decided that she would rather teach math. Her mother is a math teacher at the Madeira School, and Roshan had served as a math tutor during high school and college. "I found that sitting behind a desk was not where I wanted to be. I wanted to share my love and appreciation for math with students. Once I began teaching at Bullis, I never looked back. My greatest reward is when a student tells me that I've helped them learn to love math."