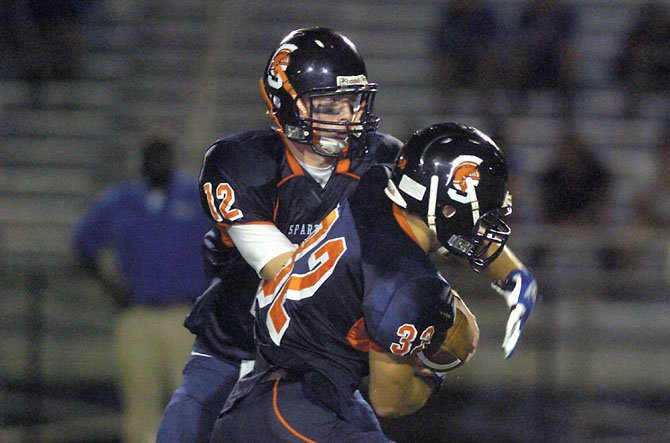 Springfield — West Springfield quarterback Tyler Sutter limped through the postgame handshake line on Sept. 14 with a bare right foot and ice wrapped around his ankle.
The senior entered Friday's Patriot District opener against rival Lee as the Spartans' leading rusher, teaming with running back Jonathan Dunn to form a potent ground attack. But a right ankle sprain and tendon pull suffered in the previous week's win over Robinson kept Sutter on the sideline for the first two series against Lee and limited his mobility once he was on the field. On this night, however, Sutter's right arm, two Dunn touchdowns and a strong defensive effort were enough to keep the Spartans unbeaten.
West Springfield defeated Lee, 33-14, in a match-up of 2-0 Springfield rivals at WSHS. Last season, the teams met in a similar situation, with Lee winning, 30-9. This year, it was the Spartans who improved to 3-0, thanks in part to a defense that forced four turnovers, scored a touchdown, produced a safety and limited Lee standout running back Michael Jolly to 81 yards in 15 carries.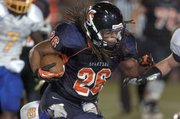 "I've got to look to the defense," West Springfield Head Coach J.T. Biddison said. "They came out and got a safety, got a score…and really did a great job…"
Nathan Pham, Frank Sturek, Matthew Ahola and Benjamin Armstrong each intercepted a pass for West Springfield. Ahola, a defensive lineman, returned his interception five yards for a touchdown, giving the Spartans a 26-0 lead with about eight minutes remaining in the third quarter.
West Springfield's defense scored the first points of the game when the Spartans tackled Jolly in the end zone for a safety with 8:53 remaining in the second quarter.
Offensively, a hobbled Sutter watched from the sideline during West Springfield's first two possessions before entering late in the first quarter of a scoreless tie. Sutter, who rushed for a team-high 243 yards and four touchdowns in the Spartans' first two games, wasn't much of a threat on the ground due to his injured ankle, but he completed six of 16 passes for 138 yards and a touchdown, giving him four scoring tosses this season.
"It was difficult," Sutter said about not being able to run. "Me being as mobile as I am, probably half my game is running the ball. Not being able to run the ball… it was a lot different."
"This is a special season for us. We have a teammate, [Jordan Trunfio], who is suffering from brain cancer. We just wanted to make this a special season—just go out there and play our hardest. He's fighting cancer and [for] his life and we're just fighting because we have to fight."

—West Springfield running back Jonathan Dunn
Dunn rushed for 107 yards and two touchdowns in 28 carries, but 72 of those yards came in two attempts. With Sutter unable to pull the ball and run during zone read plays, Dunn carried the load against a Lancer defense, which, for the most part, did a good job of containing the Spartans' talented running back.
"He's definitely a force for our offense," Biddison said about Dunn. "Either the other team's keying on him and it makes everything work or he's getting the yards."
Pham finished with three catches for 115 yards. Nathan Conquest had three catches for 53 yards, including a 27-yard touchdown reception from Sutter, giving West Springfield a 16-0 lead with 4:19 remaining in the second quarter.
West Springfield kicker Tyler Czajkowski made a 25-yard field goal.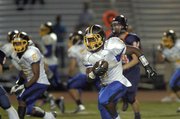 Lee's Jolly entered the contest with 56 carries for 463 yards and five touchdowns in just two games. The junior was limited to 15 carries for 81 yards by the Spartans, with 55 of those yards coming in two attempts.
"Offensively, we just didn't get a rhythm," Lee Head Coach Clarence Martin said. "We came in with a solid game plan and we just didn't execute the plays we needed to execute on offense to be successful tonight. I think our defense came out and they played lights out. They did a great job on a great team and a great running back."
Martin praised the West Springfield defense.
"After you lead Northern Virginia in rushing the first two weeks, teams are going to start scheming you up," Martin said about Jolly. "[The Spartans] did a great job defensively on [Jolly] tonight.… We tried a lot of different things. We tried to give him the ball on the outside on the perimeter, we tried giving him the ball on the inside, we tried some misdirection stuff and they were on top of it."
Lee's Demond Richeson caught two passes for 67 yards and a touchdown. Connor Schoske, a junior listed at six-foot-six and 210 pounds, hauled in two passes for 57 yards and a score.
"Connor is definitely a threat," Martin said. "Whenever you have a [six-foot-six] receiver who has great hands, it's always a big thing.… He's going to get better and better each year…and as he gets better he's going to open things up for Jolly more."
West Springfield opened the season with a 49-19 victory against Edison on Aug. 30 and the Spartans defeated Robinson, 38-14, on Sept. 7. Dunn and Sutter said the Spartans are motivated by senior Jordan Trunfio's battle with brain cancer. Trunfio wore No. 58 when he played center for the Spartans last season.
"This is a special season for us," Dunn said. "We have a teammate, No. 58, who is suffering from brain cancer. We just wanted to make this a special season—just go out there and play our hardest. He's fighting cancer and [for] his life and we're just fighting because we have to fight."
"Everything we're doing," Sutter said, "the crowd, everything, is for Jordan."
West Springfield will travel to face Chantilly at 7:30 p.m. on Friday, Sept. 21. Lee will travel to face Woodson.