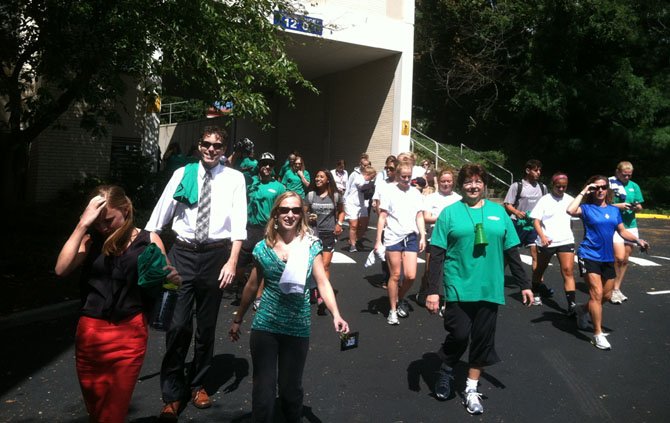 Arlington — Officials at Marymount University in Arlington are using the start of fall to encourage faculty, staff and students to let "all health break loose." The school kicked-off its "Healthy Monday" campaign earlier this month.
Wearing "Healthy Monday" T-shirts, faculty, staff and students took to the streets of Arlington for a one-mile walk on the Martha Curtis Trail, in the name of fitness and in celebration of autumn. 
"We chose Monday specifically because there is a lot of data that shows that one good decision leads to more good decisions, one healthy choice leads to more healthy choices," said Skye Donovan, an assistant professor of physical therapy.
The campaign is part of a campus-wide initiative aimed at boosting wellness. "We think it is important because the workplace should be a healthy environment and we know that being healthy adds to productivity," said Donovan. "We wanted [the campaign] to hit all of the aspects of the well-rounded definition of healthy, not just fitness, but diet, mental health, sleep, and we have an anti-smoking campaign."
Those who walked noted the social benefits. "I felt a sense of community," said Cassandra Jones, director of institutional assessment. "It was nice to see faculty, staff and students come together to take a walk."
"I actually run on the trail a lot, so it was good to see a big group of people, especially with a diversity across age," said John Wilkinson, Marymount student.
"The workplace should be a healthy environment and we know that being healthy adds to productivity."— Skye Donovan, Ph.D.
The mild autumn temperature helped entice some. "We couldn't have asked for better weather," said Ashley Taylor, another Marymount student. "It was cool to see people get excited … and I interacted with other students and people who I'd never met before."
Others expressed appreciation to university officials for supporting a wholesome work environment. "Healthy Mondays gives people a chance to be healthy and gets in the minds of faculty, staff and student about what it means to be healthy," said Francesca Reed, director of graduate admissions. "It is one thing to say it, but if you're not going to give people the opportunity actually do things that are healthy, then it doesn't help."
The organized walks will take place once a month, and other Monday activities include body mass index screening and a student vegetable chili cook-off.