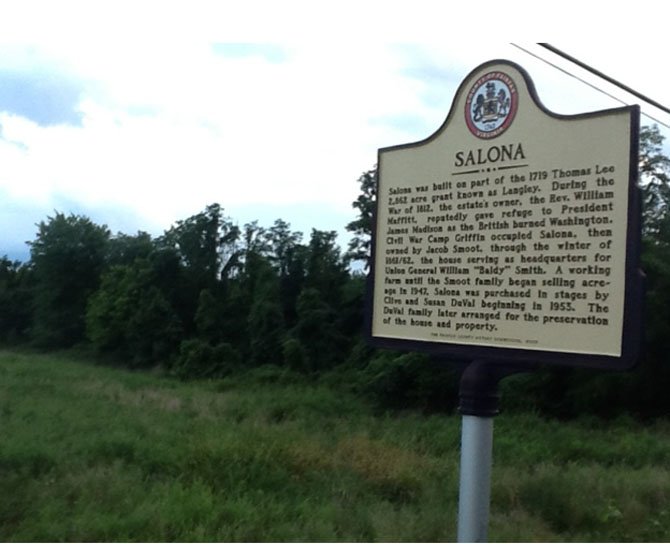 How do we enhance Salona's value to the community today and for future generations? The Salona Task Force wants to hear the community's views.
The Salona Task Force, appointed in 2011 by Dranesville Supervisor John Foust and Fairfax County Park Authority Board member Kevin Fay, was charged with reaching out to the McLean community regarding possible future uses of a conservation easement granted to the Fairfax County Park Authority (FCPA) at historic Salona.
The Task Force has held meetings over the past 15 months, inviting interested community groups and individuals to present proposals. The next step is to present these options to the community at large, which will happen on Thursday, Oct. 4. The meeting will be held at the McLean Community Center starting at 7:30 p.m. and will include presentations by members of the Task Force and by others who have presented ideas to the Task Force.
Margaret Malone, chair of the Salona Park Task Force, said that the "the Salona property offers a unique opportunity to provide McLean with a park that will greatly enhance the lives of citizens of all ages."
Salona has a rich cultural history. The Salona property, part of the Northern Neck Proprietary of 1649, became part of the Fairfax Land Grant and in 1719 was acquired by Thomas Lee, father of two signers of the Declaration of Independence. The Salona property remained in the Lee family until the early 19th century. At one time Salona was held in trust by Revolutionary War hero Henry "Light Horse Harry" Lee (father of Robert E. Lee) for Henry "Blackhorse Harry" Lee, a son by his first marriage to Matilda Lee, granddaughter of Thomas Lee, and later under the ownership of Richard Bland Lee, builder of Sully Plantation. In August 1814 when British troops attacked America's capital city, President James Madison and his wife, Dolley, separately fled the White House before the British set the city ablaze. It is thought that President Madison spent that fiery night at Salona with the Reverend William and Ann Maffitt. Evidence strongly suggests that the Madisons reunited at Salona the following day. During the American Civil War the 208 acre Salona property was occupied by the Federal Army between October 1861 and March 1862 as a part of Camp Griffin. Brigadier-General William Farrar ("Baldy") Smith used the vacated house for his headquarters. The Vermont Brigade, consisting of the second, third, fourth, fifth and sixth Vermont Infantry Regiments and a part of Camp Griffin, encamped on the surrounding property. Major-General George McClellan was known to have spent the night at Salona at least once.
Salona is on the National Register of Historic Places, the Virginia Landmarks Register, and the Inventory of Historic Sites in Fairfax County, and is specifically referenced as a Heritage Resource in the County Comprehensive Plan.